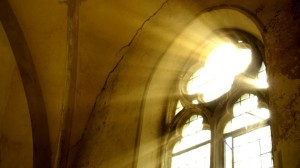 At the pinnacle of the sloping ceiling at St. Cletus Catholic Church (in St. Charles, Mo.), at the center of the church, some clear windows allow sunshine to stream downward – when the sun is shining, of course. The sun was shining brightly in our part of the world on Christmas Day. Praise God!
Monsignor John Hickel, our retired "priest-in-residence" at St. Cletus, often has drawn attention to those rays of sunshine on mornings when he is celebrating Mass. He did so again near the beginning of the 10 o'clock Mass on Christmas – which I attended with Donna, youngest daughter Kara and son-in-law Tom.
That's where I received my favorite Christmas gift – one of the best ever.
When the sun is shining during Mass at St. Cletus, it pours through that skylight and generally falls on one or two people seated in the pews – sort of like a spotlight. A heavenly spotlight, if you will.
Msgr. Hickel has pointed out that the sunlight singles out a person during some past Masses. But on Christmas Day, just shortly after he processed to the front of church, he said he wanted to note something that wasn't "official" church teaching and that he hadn't run it past Pope Francis.
"You see that man who is in the light back there?" the priest said as he called attention to a man not too far from me. "I think that light means something special is going to happen to him this year."
Everyone chuckled, then Mass continued as usual. I stopped thinking about the sunlight. Although I always consider attending Mass the highlight of my day – whether it is every Sunday or on one of those rare occasions that I make it during the week – something made this one feel more special. I'm sure it was because it was Christmas.
The Spirit was with me throughout my Advent preparation, which had more than its share of ups and downs. The depression took a toll on me at times and sapped me emotionally and mentally. At the same time, I was bolstered by a retreat and faithfulness in prayer. I did a pretty good job, too, of avoiding Christmas music during the four-week period. Everyone once in a while, a tune would sneak onto my radio or into my head. And I did watch a few Christmas TV specials – there's no way I would miss Charlie Brown! But I really wanted to save Christmas joy for Christmas season.
I was rewarded with a joyful heart on Christmas morning. That helped me enjoy the gift of receiving the Eucharist even more than usual. The songs during Mass helped as well. Each seemed to stir something greater within me. I actually felt goosebumps while singing "O Holy Night" with the congregation even though it's a song I have heard hundreds of times.
The sun was on the move in the sky outside during Mass, of course. That meant the "holy spotlight" was gradually moving as well.
By the time communion began, the ray of sun landed on Donna and me. Carrie Wolf, our parish director of music, was playing on the piano as the choir and congregation sang.
"Silent night, holy night! All is calm. All is bright … "
To be honest, I hadn't noticed at first. My head was bowed in song and prayer as I waited for our row's turn to process toward the front of the church. I received the host, then took a small drink from the chalice of the Blood of Christ. My heart was rejoicing and bursting with gratitude as I walked back to our pew.
"Silent night, holy night! Shepherds quake at the sight … "
I knelt down – then noticed for the first time that the sun was landing on me. It was so bright that it actually annoyed me a bit initially. It distracted my mind from concentrating on physically receiving Christ and briefly interrupted my prayer. Really, even though I looked straight ahead and not up into the sun, it still seemed as bright as if I was staring directly at it.
So I closed my eyes. I thanked God for the gift of His Son – Word made flesh as a baby on that first Christmas Day, and in His flesh and blood that I was so blessed to receive. And as I always do, I asked God if I could one day see His face. That has been one of my most consistent prayers and essentially my personal spiritual mission for more than 30 years. Deep in my soul, I know that if and when the day comes when God grants me the favor of gazing upon His face, then my joy will be complete.
With head bowed and eyes closed, I continued to pray. Even with my eyes closed, though, the sunlight was so very bright. You know what it's like to look right into the sun, close your eyes and still see a flood of great light? That's how it looked. Eyes closed but no darkness, only incredible light.
No longer annoyed, I just looked at the light and felt the warmth on my head and shoulders. And I listened to the words of the song's third verse:
Silent night, holy night! Son of God love's pure light. Radiant beams from Thy holy face With dawn of redeeming grace, Jesus Lord, at Thy birth Jesus Lord, at Thy birth
My prayer stopped as I realized what I just had heard. I tried to open my eyes, but it was far too bright. I closed them again, still with not a hint of darkness, and I realized what I just had heard: Radiant beams from Thy holy face … 
His Holy face!
My heart nearly leapt out of my chest. I could feel His gaze! His Holy face – He was looking at me! That face which I have longed to see for so very long was fixed upon me. I tried opening my eyes again and slowly tilted my head toward the top of the ceiling, but the light was so bright I couldn't see anything.
So I bowed my head again, closed my eyes and all thoughts were vanished from my mind. I just smiled. I could feel something within me dancing. And I just basked in the warmth and glow of the radiant beam.
I couldn't see God's face. That prayer will continue. But I had felt the effect of His face, of His gaze, of His presence. I know God was present to all in that church at that moment, yet something inside whispered it had been just for me.
I felt the kind of joy and hope that, while I know it won't always be present, can sustain me until I truly do see His face.
Indeed, it was a merry Christmas.