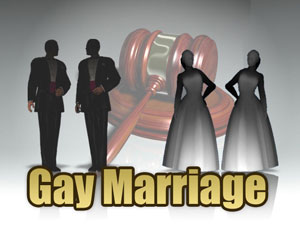 A New Jersey judge ruled on Friday that the state's law protecting marriage as the union between a man and a woman violates the state constitution.
Mercer County Superior Court Judge Mary Jacobson specifically cited the U.S. Supreme Court ruling striking down part of the Defense of Marriage Act (DOMA) in saying the state must recognize same-sex "marriages" by October 21.
Governor Chris Christie, the Republican who vetoed a bill redefining marriage in 2012, has promised to appeal to a higher court.
"Gov. Christie has always maintained that he would abide by the will of the voters on the issue of marriage equality and called for it to be on the ballot this Election Day," said Christie spokesman Michael Drewniak. "Since the legislature refused to allow the people to decide expeditiously, we will let the Supreme Court make this constitutional determination."
The state Supreme Court ruled in 2006 that homosexuals have no right to be recognized as "married" – by a one vote margin.
But New Jersey already has civil unions – also decreed by the state Supreme Court in the same case. The U.S. Supreme Court cited California's civil unions as proof the state did not value marriage as a unique legal relationship between a man and a woman in striking down Proposition 8.
Jacobson ruled that applying a different label to homosexuals barred gay couples from collecting federal benefits.
"Judge Jacobson has trampled on the right of the people of New Jersey to define marriage, a right that the Supreme Court has upheld in the very case she misuses to redefine marriage," stated Brian Brown, the National Organization for Marriage's president.
The ruling and the underlying lawsuit made clear the push for gay "marriage" revolves around collecting welfare benefits and other state incentives designed for the nuclear family.
"The ineligibility of same-sex couples for federal benefits is currently harming same-sex couples in New Jersey in a wide range of contexts," Jacobson wrote.
Jacobson was appointed by Chief Justice Stuart Rabner in January 2012. She succeeded Assignment Judge Linda Feinberg.
Hayley Gorenberg of Lambda Legal said she found the ruling "thrilling," because "the state stood between these families and a host of federal protections, benefits, rights and responsibilities."
But Len Deo, president of the New Jersey Family Policy Council, told ABC News the ruling represented "judicial activism" that imposed an extreme social agenda on the state without the voters' consent.
State legislators had threatened to override Christie's veto but still lack the votes: 12 in the House, three in the Senate.
"This is a gross abuse of power that cannot be allowed to stand," said Brown.