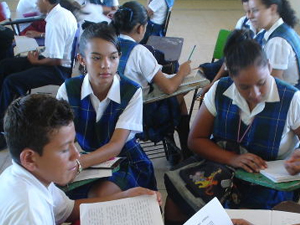 In his apostolic exhortation Amoris Laetitia ("The Joy of Love"), Pope Francis addressed issues related to marriage and the family. The document has received a great deal of media coverage and it will shape the way that the Church discusses these issues moving forward.
One important section of the exhortation focused on reaffirming the Church's traditional teaching on the primary role of parents in the area of education.
In Paragraph 84, Pope Francis strongly sets forth that education is the "primary right" of parents. This is not simply a task for the parents to accomplish, but rather an "essential and inalienable right." The government's role is to support the parents in the exercise of this right, not to replace them. While the government offers educational opportunities, "parents themselves enjoy the right to choose freely the kind of education –- accessible and of good quality –- which they wish to give their children in accordance with their convictions."
Pope Francis' statements on education reflect the moral dimension of the issue of school choice. This is not simply a matter of policy. Instead, we have to ask ourselves whether the current educational environment in our country supports parents as the primary educators of their children. Further, does the current environment allow for all parents, not just the affluent, to exercise the fundamental right to "choose a school for their children which corresponds to their own personal convictions" (The Catechism of the Catholic Church, #2229).
It is not enough for policymakers to simply say that parents have the "right" to choose their children's school without providing concrete conditions necessary for exercise of this right (CCC, #2229). In Forming Consciences for Faithful Citizenship (#72), the U. S. Conference of Catholic Bishops wrote that "Government, through such means as tax credits and publicly funded scholarships, should help provide resources for parents, especially those of modest means, to exercise this basic right without discrimination."
A majority of states in our country have taken significant steps towards affording educational options to all families. Yet, many states, including Kentucky, still lag behind by not providing any public support for parents in the exercise of this right. In these states, students are generally sent to a school based on their ZIP Code, which is in turn is often decided by their income. Of course, this is not the case for many students, whose parents' wealth allows them to choose the public school district that they live within or affords them the opportunity to choose a nonpublic school.
Such disparities cannot persist without causing further damage to our society. Policymakers should heed Pope Francis' words and create an education system which serves all families.