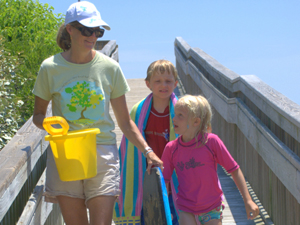 This is the first summer I've had in my Mom Life where it's not just another season, regulated with hotter temperatures and a reading program at the library.
My oldest, you see, has just finished first grade. She's home for the summer.
Which is great.
It has also made me really consider how much more she needs me than she did when she was, say, 18 months old, like her brother, or even four, like her sister.
On the one hand, this makes perfect sense. The teens I know need their parents far more–in far different ways–than my preschoolers needed me. Sure, they can take care of their own bathroom needs, but they need brainpower in a whole new way.
On the other hand, I was unprepared for this reality. My oldest is seven. She's not a teen, not even close. Even so, I've been finding out that this summer is a whole new ballgame for me.
Due to a few other obligations I have, I've been busy in a way that's different from what I consider normal. All of my kids are around me in a way that also doesn't feel normal. That means I feel busier, muchmuchMUCH busier.
And that has meant praying more.
In between handing out popsicles by the dozen, closing the porch door again, and trying to figure out where the toddler boy got that small object in his mouth, I've found myself muttering quite a few pleas for heavenly help.
I must be getting more patient. Two years ago, I would've popped my top if I had a small green tractor embedded in my foot while an ice cream cone dripped from the ceiling fan. I know I couldn't have dealt with an extra three kids, the tent of much stuff in the front room, and the responsibility of a Confirmation summer class series.
The answers I'm getting to my mumbled prayers are unexpected, but not altogether surprising. My desire for down time has involved dirt and water some evenings, Adoration on others, and sometimes even a good book and a comfy couch. When I asked God to help me through a day not so long ago, I had three different notes of encouragement within an hour.
On the days when I worry that I can't possibly get anything done well, I find I need only to pause for a few moments of silence to have it all put into perspective. How firm is that deadline I'm facing? Turns out it's mostly self-imposed.
How am I going to keep my all-too-fragile temper in the heat of girlchild bickering, my own wacky mood swings, and the high temps outside? Funny how slowing down and de-screening helps all of us.
What's your biggest challenge in the summer? How do you deal with it?