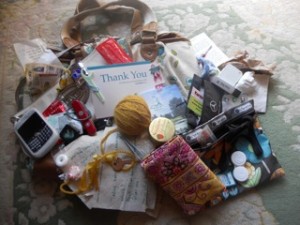 What is it with women's curiosity to know what's in a celebrity's purse? You know that feature found in the back of magazines — like some reward we get for reaching the last page: "We caught up with Brooke Shields and convinced her to 'Spill it all' for us!" Then we get to be shocked and amazed she carries some of the gasp! omg! squeal! same things we carry in our purses — a smart phone loaded with pics of her family, Starbucks napkins and lip balm. Of course it's even juicier if the celeb's lip balm is from the corner drug store and not imported from France by the case load "because the last time I was there on a shoot I just fell in love with this stuff and am totally addicted!"
Well by now I'm sure you're dying to know what's in MY purse! Let's see here…
A ball of yarn, 2 expired coupons for dish soap, thank you card from the CMC-NE Mobile Mammography ladies, postal receipt dated 7/15/2011, Blackberry, wallet, Pinehurst golf bag tag (I don't golf), Havana Carolina Cafe receipt dated 7/14/2011 (I do eat Cuban sandwiches), eyeglass cleaner packet, hand cleaner packet, 5 (FIVE) Starbucks napkins–two with super secret notes Kelly and I wrote about the cute guy at the next table, peanuts from Delta (I have NO idea the last time I flew Delta), Zeno zit zapper thingy that's missing its recharging cord, 1 used paper towel, 2 unused pocket tissues, Swiss Army knife (red classic) 4 pony tail holders, one bobby pin, 3 paper clips (1 each blue and silver standard sized and 1 large silver), 2 clear plastic sleeve clips from the Laundry Fairy, black fine tip Sharpie marker, Sweet Briar College ballpoint pen (green cap, black ink), York Peppermint Patty, tin of Rosebud Strawberry Lip Balm (not from France) tweezers, (blue slant tip), unused (I think) flossing pic, 2 mints, pill box of xanax, lone ibuprofen tablet, lone GasX gelcap, tape measure, hankie in need of laundering, lipstick, safety deposit key and liquor store receipt.
Then…a wristlet purse containing a memorial card, tissue, tube of lipstick, cough drop, extra fine tip green Sharpie marker, business cards and receipt from Ben Franklin my mom's been asking me about for 5 weeks.
Inside a zipped makeup bag I found a headband, contact lens case, Band-Aid, manicure tool, Listerine PocketPak, clear plastic sleeve clip, small binder clip and strip of Hollywood Tape.
Finally, I opened the small, black zipper case to find the pin number for my debit card (which my daughter accidentally took to college and I totally forgot to get back from her when I was there this weekend), another strip of Hollywood Tape, label from box  of my husband's favorite shoe, old shopping list, (current) business cards and thumb drive with artwork for notecards I should have ordered last November.
Beat that, Brooke!