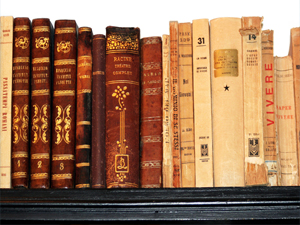 It's August, and while most of us have our school or homeschooling plans all neatly lined up and ready to go, I know there are a few parents out there scrambling to get a homeschool up and running at the last minute.  If you're in the pinch right now, I'd like to offer four thoughts on getting enough of a school in place that you can get started, but without breaking the bank with rushed decisions.
#1: Your top priority is keeping your school legal.  Here's an example: My state mandates homeschoolers teach five required subjects, and no, Latin and religion are not on the list.  If I'm homeschooling, I'd better make sure I have something – anything – ready to go for those required subjects.  I can take my time in picking out electives.
In certain heavily-regulated states, you'll want to work closely with an organization like HSLDA to ensure your curriculum and paperwork are in order. In that case, consider starting out by connecting with a local support group, and adopting the curriculum of another experienced homeschooling family whose needs and limitations are similar to your own.  (If you pick a widely-used curriculum, you may be able to borrow books to save on costs.)  Plan to make adjustments after you have six months or a year of experience under your belt.
In more homeschooling-friendly states, you can buy some decision-making time by starting with a bare-minimum, just-for-now curriculum — an inexpensive math workbook, a phonics workbook, a pad of handwriting practice paper, and a pile of library books for history, literature, and science.
(For older students: Substitute a vocabulary and a composition workbook.  Check out something affordable like these vocabulary books from Sadlier-Oxford.  You only need the student book, not the expensive teacher's manuals.  Your children can do their work on a separate piece of paper so that you can resell the books when you're done with them.)
As long as you're meeting your legal requirements, it's also fine to unschool while you get your moorings.
#2.  Decide what your goals are.  You'll have some long-term goals: "I want my kids to get into a good college," or, "My children will be fluent in Mandarin Chinese."  And some short-term goals: "My seventh grader MUST learn his multiplication tables this year," or perhaps, "We're burnt-out on school-as-usual, and need to rediscover our love of learning."
Write down your goals.  Don't spend a penny, or a square foot of storage space, on any curriculum that doesn't support your long-term and short-term goals.
#3.  Be honest about your needs and limitations.  As you start researching curriculum choices, you may fall in love with certain enchanting ideas:  My children will memorize the Illiad!  We'll study science by dissecting an insect a day!  We'll bake all our bread in a homemade brick oven in the back yard!
Return to earth.  Don't buy flashcards if what you really need is computer-based drills.  Don't buy that rigorous vintage textbook for your child who can barely read.  There are children who love The Hobbit and those who love Anne of Green Gables, but very few who love both.  As you consider all the 10,000 choices before you, ask, "Do I have the time, energy, and ability to actually do this program this year?  Does my child?"  If in doubt, wait.  There's always next year.  It's okay to leave your children a few books to discover in adulthood.
#4. Budget for mistakes.  How much money do you have for buying curriculum and school supplies?  Spend half.  You read that correctly: Half.  It's your first year homeschooling.  You are under the gun.  You are going to purchase some things that don't work out.  It happens to the most experienced parents, and in your first year, it's going to happen to you.  Don't feel embarrassed or guilty; just set aside the money so you have it when you need it.
Veteran homeschoolers, what other tips do you have?  New homeschoolers, how are your plans coming along so far?  I know we have a lot of homeschooling parents reading here, so please post your questions!