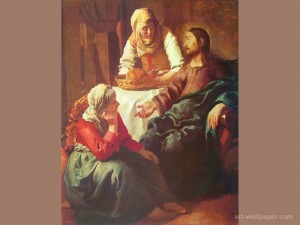 I've long been confused by the story of Martha and Mary from Luke 10:38-42.  It reads:
As Jesus and his disciples were on their way, he came to a village where a woman named Martha opened her home to him.  She had a sister called Mary, who sat at the Lord's feet listening to what he said.  But Martha was distracted by all the preparations that had to be made. She came to him and asked, "Lord, don't you care that my sister has left me to do the work by myself? Tell her to help me!"
"Martha, Martha," the Lord answered, "you are worried and upset about many things,  but few things are needed—or indeed only one. Mary has chosen what is better, and it will not be taken away from her."
Through years of listening to explanations of this passage I think I might sort of get the meaning as it pertains to one's prayer life – the better part, of course, is spending time with Jesus.  As such I have always tried to work prayer into my days even if it's only a few minutes at a time – even if it's while I'm washing dishes or folding laundry (love the rosary on my iPod for this purpose!!).
As usual I have to attempt to find a deeper meaning to things that may or may not be there. It has been 10 days since tenth baby was born and my husband, Jesse, has been home to help out around the house. I found myself chatting with a good friend of mine (who also just had a baby) about how Jesse "gets to" play games, go to the park, read stories, etc with the kids but I basically still got stuck with the chores around the house, even just a few days postpartum.
Then it dawned on me – I've been lamenting over children growing too quickly, babies changing before my eyes, kids going to college, starting high school, learning their ABC's and all the while I'm obsessing about how clean the baseboards are (and they aren't particularly clean at the moment), empty hampers at the end of everyday, and not a dish in the sink unless it's meal time.
Just as Jesus reminded Martha that He would not always be with them – I need to be reminded that someday the kids will be gone. The house will be empty.  I will have hours to wash floors and clean bathrooms and maybe even get to that basement but I will be lonely. I will long for the time of chaos and I will miss the moments of play dough sculpting, painting, and board games.
Now, if only I could figure out the balance, because obviously we need clean clothing, meals to eat and dishes to eat off of.  We need school books ordered, bills paid, and rugs vacuumed (at some point, anyway).  It's not healthy nor in God's plan for us to be "slackers" in these areas.  We are called to care for our homes and resources wisely.
I am in search of that balance, the place where I check my type A personality at the door and just enjoy what is in that moment. Perhaps I need to pray for wisdom to know which is the better part at any given time. I believe as a homemaker, wife, and mother I am driven to take some pride in the work I do around the house, but how much pride?  And is that pride overshadowing my choosing the "better part" of my vocation?
If you've ever been in my house you know I shouldn't really take that much pride in its condition. I'm certainly no Martha Stewart and my house is kind of Ikea meets Romper Room in style, if you can call that a style. So what am I doing choosing to organize the chaos instead of enjoying the children?  This is something for me to ponder further as we enter into another year of homeschooling with a new baby in the house. Hopefully answers will be revealed to me as I continue to pray for wisdom.