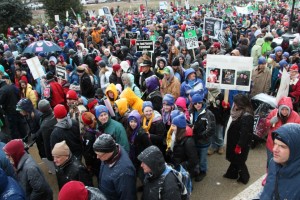 Walking among a half million fellow pro-lifers on January 25 in the nation's capital, one could not help but reflect on the irony: We marched to remember the 40th anniversary of the Supreme Court's abolition of every state law against abortion in Roe v. Wade, while only four days previously the same streets were filled with people celebrating the re-inauguration of the most pro-abortion president in our nation's history.
It is quite an understatement to say that those attending the two huge events were motivated by starkly different values, and different visions for the nation.
With the re-election of Mr. Obama, the majority of voting U.S. citizens, perhaps unwittingly for many, validated the most destructive agenda against human life this country has ever seen. This administration has made its main priority the unhindered accessibility of contraception and abortion, while elevating within U.S. domestic and international policies the redefinition of marriage. President Obama's vision of our nation includes the abortion of 1.2 million unborn children each year. He believes that providing hormonal contraception to women is good health care, and disregards the scientific proof to the contrary. He is willing to set aside the foundational institution of any society — the natural family — in order to establish what he calls "equal dignity"– regardless of its harm to culture and society. This is his vision of what the United States should be, and sadly, many Americans share it.
On Friday of the same week, in defiance of freezing temperatures, 500,000-plus Americans gathered on the National Mall to voice their opposition to the status quo of the administration. They boldly proclaimed their rejection of the president's vision. Though the mainstream media failed to provide coverage of the largest pro-life gathering in the U.S., the voices of these marchers were loud and clear. Moreover, it was quite evident that the majority of participants were young people who have a very different vision of America than was celebrated only days earlier. They professed their belief in God, the dignity of the person and the protection of every human life. Tomorrow's leaders have a different vision and they will not fade away, be ignored or be bullied into silence and acceptance.
These ardent and courageous witnesses are not alone in their call for a different kind of society than the one they see currently under construction. State and local pro-life marches and events are growing. More Americans are becoming informed about the life issues and becoming active in the pro-life movement, especially young adults. I see it in my travels and in the conferences I attend. Last year, for example, I participated in a number of pro-life events that were non-existent the previous year, and noticeably they are filled with young people and families. They recognize the problems of our culture and want them fixed. In order to create a new vision for our nation we must first establish and protect the sacredness of life, defend the dignity of every person and uphold the beauty of marriage between one man and one woman. They also understand the unsustainability of the president's vision, and that there is no tomorrow if the dignity of life remains unprotected.
These signs of hope are being witnessed all over the world. I was in Ottawa in 2012 for its March for Life and joined 25,000 participants, five thousand more than the year before. The 2012 March for Life in Brussels gathered over 4,000 and projects a stronger gathering this March 25. Recently, 30,000 pro-lifers gathered in Dublin, Ireland to defend its Culture of Life against those forces determined to destroy it. In the same month in Paris, France, over 1 million people gathered to protest against the radical redefinition of marriage. In spite of the passage of the Reproductive Health Bill in the Philippines in December, tens of thousands of Filipinos still gather in rallies to demand justice for every member of their society, especially the most vulnerable, the pre-born baby.
In 1991 there were 2,176 abortion mills in the U.S. Today there are 655, and they are continuing to decrease. At one time the number of abortion mills overshadowed the number of centers offering authentic assistance to women in need, but today there are over 2,500 crisis pregnancy centers across our nation.
The fight for life is far from over and there are battles yet to be fought. But I draw great comfort in seeing so many across our nation and around the world getting involved. I left the March for Life in D.C. filled with a strong sense of hope and challenge.
In closing, I would like you to consider the words of Sacred Scripture as we move forward in our efforts. Our labor will be in vain unless we acknowledge WHOM we serve and what HE asks of us.
"See, I have set before you today life and good, death and evil. If you obey the commandments of the Lord your God that I command you today, by loving the Lord your God, by walking in his ways, and by keeping his commandments and his statutes and his rules, then you shall live and multiply, and the Lord your God will bless you in the land that you are entering to take possession of it." (Deuteronomy 30:15-16)