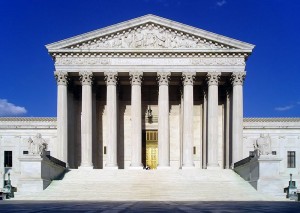 Today the Supreme Court decided its most important religious liberty case in twenty years, Hosanna-Tabor Evangelical Lutheran Church and School v. Equal Employment Opportunity Commission. The government lost 9-nothing as the Court unanimously rejected its narrow view of religious liberty as "extreme," "untenable" and "remarkable."
The unanimous decision adopted the Becket Fund's arguments, saying that religious groups should be free from government interference when they choose their leaders. The church, Hosanna-Tabor, was represented by The Becket Fund for Religious Liberty and Professor Douglas Laycock, University of Virginia Law School. For years, churches have relied on a "ministerial exception" which protects them from employment discrimination lawsuits by their ministers.
"The message of today's opinion is clear: The government can't tell a church who should be teaching its religious message," said Luke Goodrich, Deputy National Litigation Director at The Becket Fund for Religious Liberty. "This is a huge victory for religious freedom and a rebuke to the government, which was trying to regulate how churches select their ministers."
The Court rejected the government's extremely narrow understanding of the constitutional protection for religious liberty, stating: "We cannot accept the remarkable view that the Religion Clauses have nothing to say about a religious organization's freedom to select its own ministers."
"This is a huge win for religious liberty," said Professor Doug Laycock.  "The Court has unanimously confirmed the right of churches to select their own ministers and religious leaders."
"It is amazing when a church from Redford, Michigan stands up for its rights and ends up going all the way to the Supreme Court," said Reverend Paul Undlin of Hosanna Tabor. "Praise God for giving the Justices the wisdom to uphold the religious freedom enshrined in our Constitution!"
The Court found that the ministerial exception is rooted in both Religion Clauses—the Free Exercise and Establishment Clauses. Justice Thomas filed a concurring opinion.  Justice Alito joined by Justice Kagan also filed a concurring opinion.
More Information:  Case Page    Supreme Court Opinion