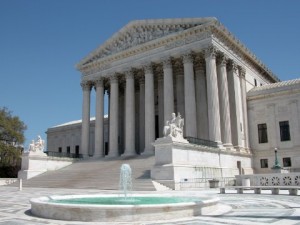 In what could be the abortion legal battle of the decade, the U.S. Supreme Court decided last month to weigh-in on the Texas abortion regulation law. The case will have far-reaching and long-lasting consequences for women's health. It will determine whether the unregulated and unaccountable abortion industry will be able to continue business as usual, ignoring the health of women in pursuit of profits.
The Supreme Court's decision on the case could have a domino effect on similar laws in other states including Pennsylvania, Michigan, Missouri, and Virginia. It will set an important precedent for the amount of oversight states will be allowed to have over the abortion industry.
The recent videos revealing the Planned Parenthood organ harvesting scandal are just one illustration of how the abortion industry needs greater oversight and accountability, not less.
The Texas abortion regulations were passed by the Texas State Legislature in the summer of 2013 and signed into law by then-Governor Rick Perry. The law requires that all clinics adhere to the basic facility standards set for an ambulatory surgical center. It also requires that abortionists have admitting privileges to a near-by hospital in the event that life-threatening complications should arise. Most abortion clinics in the State have since shut down because they were unable, or unwilling, to comply with these basic health regulations.
Allowing abortion businesses to operate without having to adhere to the basic standards required of all ambulatory surgical health facilities clearly places mothers' health at risk, reduces the standard of women's health care, and jeopardizes countless unborn lives.
In some circumstances, induced abortion can permanently harm a woman's health and can place her life at risk. There is no doubt that abortion becomes increasingly more risky for the mother at later gestations.
According to a study published in Obstetrics & Gynecology, the official journal of the pro-abortion American College of Obstetricians and Gynecologists, mothers who had a legal abortion in the 11th and 12th weeks of gestation were more than three times more likely to die from the procedure than mothers who had their legal abortion in the eighth week or earlier and were up to 30 times more likely to die if the abortion was done between the 16th and 20th week.[1]
Another study[2] in The New England Journal of Medicine found that abortions carried out using RU-486 were more likely to result in incomplete abortion when used at later gestations. Women also reported noticeably more adverse symptoms and pain at later gestations and women who used the abortion drug after 7 weeks gestation (8-9 weeks) were twice as likely to have been hospitalized, required a surgical intervention, or required intravenous fluid than the less than 7 weeks group.
More women are choosing to abort in the second trimester (13-27 weeks gestation) as prenatal screening has become widely available,[3] allowing expectant mothers to select out unwanted children with congenital anomalies, heart conditions, or skeletal deformities. Given the widespread prevalence of prenatal screening, it is highly unlikely that multiplying the number of abortion clinics will eliminate the significant number of late-term abortions. Most fetal abnormalities are not detected until after 14 weeks gestation.[4] According to Guttmacher figures for 2004, up to one-third of all second trimester abortions could be due to reasons[5] of fetal deformity and congenital anomalies.
Induced abortion continues to have severe health consequences for some women and can be a risky procedure for the mother in certain circumstances. As of 2011, over 2,000 adverse events have been reported to the FDA with the use of the abortion inducing mifepristone drug including 612 hospitalizations, 339 blood transfusions, 256 infections, and 14 deaths.
It is wholly irresponsible to toy with women's lives by making abortion facilities unaccountable to building standards required of all other ambulatory surgical facilities in the state. In the case that a life-threatening complication should arise, shouldn't women have guaranteed access to quality emergency care?
Abortion advocates have argued that abortion is a safe procedure—an argument that is suspect in its own right. But if, as they suggest, abortion is as safe as having your tonsils removed, why should abortion clinics be exempt from the same regulations as health facilities that remove your tonsils?
Adopting standards for ambulatory surgical centers are not onerous or discriminatory requirements as have been suggested. The standards required of abortion clinics are simply those where "a facility that operates primarily to provide surgical services to patients who do not require overnight hospital care." It's not as if Texas abortion facilities are being required to adopt standards in accord with inpatient surgical facilities or hospitals.
Abortion advocates have also argued that mothers would face excessive burdens in having to travel long distances to have an abortion. But Texas is a big a state, just like Alaska. And women in much of Alaska face similar challenges in having to travel long distances to have an abortion. Women on Kodiak Island are forced to take an hour long plane ride to Anchorage to reach the nearest abortion clinic.
One of the reasons there are no abortion facilities west of San Antonio has a lot to do with the fact that, as U.S. Census data shows, most of Texas west of San Antonio is very sparsely populated and so claiming long travel distances is really a red herring—people in western Texas have to travel long distances for many things. There will still be hospitals in western Texas and it is doubtful that lives would be at risk if an intervention were necessary to save a woman's life. Besides, persons in El Paso who wish to terminate the lives of unborn children are free to do so with clinics close-by in New Mexico, only a short 45 minute drive away.
Texas is not alone in this respect either. Wyoming doesn't have a single abortion clinic and Mississippi, North Dakota, and South Dakota only have one abortion clinic each.
Maternal health in Texas is unlikely to be affected as a result of fewer clinics. According to the CDC, maternal mortality rates in North Dakota between 2003 and 2007 were among the lowest in the country. It would seem that arguments against basic regulations for abortion clinics have been largely rooted in ideology rather than science.
The abortion industry in the United States is among the least regulated in the world. In Sweden, a largely pro-abortion country that gives more money to Planned Parenthood than any other nation, abortion is only legal up to 18 weeks gestation unless the life or health of the mother is at serious risk. The gestational limit in Sweden is in fact stricter than Texas' which allows abortion for any reason up to 20 weeks. Swedish women who want to have an abortion after 12 weeks are required to receive counseling before having an abortion and after 18 weeks, women have to make a case before the National Board of Health and Welfare before they can receive permission to have an abortion. The National Board reviews cases individually on a case-by-case basis.
There is much reason to speculate that the Supreme Court will rule against the Texas law. The Court has been preventing the law from being implemented after the Fifth Circuit of the U.S. Court of Appeals ruled in favor of the Texas abortion regulations protecting women's health and instituting accountability among abortion clinics in the state.
It is possible that public opinion on the case could play a large role in determining the outcome of the case, as some have observed. According to a Gallup poll earlier this year, the vast majority of Americans are unsatisfied with the nation's abortion regulations. Only 39% of Americans were satisfied with the extent of regulations on average between 2012 and 2015, a rate that may be lower now as sentiment has been trending downwards. Among the majority that is unsatisfied with abortion regulations, only 12% said they would want fewer restrictions on abortion.
[1] Linda A. Bartlett, Cynthia J. Berg, Holly B. Shulman, SuzanneB. Zane, Clarice A. Green, Sara Whitehead, and Hani K. Atrash, "Risk factors for legal induced abortion-related mortality in the United States," Obstetrics and Gynecology 103, no. 4 (2014):733, doi: 10.1097/01.AOG.0000116260.81570.60.
[2] Irving M. Spitz, Wayne Bardin, Lauri Benton, and Ann Robbins, "Early pregnancy termination with mifepristone and misoprostol in the United States," The New England Journal of Medicine 338, no. 18 (1998):1241-1247.
[3] S. Lalitkumar, M. Bygdeman, and K. Gemzell-Danielsson, "Mid-trimester induced abortion: a review," Human Reproduction Update 13, no. 1 (2007):37-52, doi:10.1093/humupd/dml049.
[4] Richard Lyus, Stephen Robson, John Parsons, Jane Fisher, Martin Cameron, "Second trimester abortion for fetal abnormality," Analysis, BMJ 347 (2013):f4165, doi: http://dx.doi.org/10.1136/bmj.f4165.
[5] Lawrence B. Finer, Lori F. Frohwirth, Lindsay A. Dauphinee, Susheela Singh, and Ann M. Moore, "Reasons U.S. Women Have Abortions: Quantitative and Qualitative Perspectives," Perspectives on Sexual and Reproductive Health 37, no. 3 (2005):110-118.