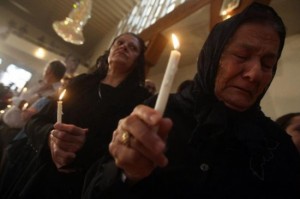 Horrific details are emerging of atrocities carried out in a Christian town in Syria in what is being seen as the worst act of anti-Christian persecution since the war in Syria began.
Inhabitants of Sadad, near Homs, who fled the largely Syrian Orthodox town when rebels attacked last month, are now returning home to discover the scale of atrocities, where 1,500 families were held hostage and 45 were killed, including two teenage boys, their mother and three of their grandparents who were thrown down a well.
The reports, sent by Church leaders to Catholic charity Aid to the Church in Need (ACN), describe how, in this ancient Christian town mentioned in the Bible (Ezekiel), vulnerable people unable to escape, including the elderly, disabled, women and children, were subjected to torture, such as strangulation.
Church sources say 30 bodies were found in two separate mass graves.
Discovered dead in a well in Sadad were the remains of six members of one family including Matanios El Sheikh, 85, his wife, Habsah, 75, their daughter, Njala, 45, and grandsons Ranim, aged 18, a first-year university student, and his 16-year-old brother Fadi, in class XI at school.
Reports state they were thrown down a well on October 26th along with the boys' paternal grandmother, 90-year-old Mariam.
Their funerals, which took place Monday, November 4th, came as a community, whose town dates back to 2000BC, begins to grieve the loss of those being described as "martyrs" by Church leaders.
The atrocities took place during a week-long occupation of Sadad by the Al-Nusra Front and Daash, rebel forces who, according to Church leaders, held 1,500 families as "human shields" in a bid to stop Government troops retaking the village.
The tragedy in Sadad began on October 21st when rebel forces invaded the town and carried out what Syrian Orthodox Archbishop Selwanos Boutros Alnemeh, Syriac Orthodox Metropolitan of Homs and Hama, called the "most serious and biggest massacre of Christians" since the conflict began in Syria in March 2011 (Fides, 10//31/13).
At least 2,500 families fled with no more than the clothes they were wearing to the likes of Homs, 37 miles away, as well as Damascus, Al-Fhayle, Maskane, Fayrouza, Zzaydal and elsewhere.
Some who escaped traveled 5 miles by foot to find shelter.
Those unable to flee Sadad were quickly rounded up by the rebels as part of a bid to fend off a counter-attack by forces loyal to Syria's President Bashar Al Assad.
In the days that followed, at least 30 were wounded and 10 are reported still missing.
Accounts from Archbishop Alnemeh and other Church leaders described widespread looting and destruction of shops, homes and government buildings, as well as the state hospital, clinic, post office and schools.
According to reports, young people described receiving taunts and insults against their Christian faith and obscene words were written on church artifacts.
Sadad, where Aramaic, the language of Jesus Christ is spoken, has up to 14 churches, one of which, the Syriac Orthodox Church of St. Theodore, was used by the rebels, who desecrated it.
In an interview Monday, November 4th, with ACN, Melkite Greek Catholic Patriarch Gregorios III of Damascus described the atrocities in Sadad as "bestial."
Highlighting the murder of the family thrown down the well, Patriarch Gregorios said, "How can somebody do such inhumane and bestial things to an elderly couple and their family?"
"I do not understand why the world does not raise its voice against such acts of brutality."
Reiterating his call for an end to the transfer of arms to Syria, especially extremist rebel groups, Patriarch Gregorios said that already the atrocity had instigated another wave of emigration of Christians from Syria.
He said that, until now, the faithful had seen Sadad as a safe haven, compared to the likes of Homs where Christian communities had come under attack.
Describing the atrocity as "a sign of the rise of fundamentalism and extremism" in the country, he said, "What happened in Sadad is very significant in that it is frightening the Christians into leaving the country."
"I have heard from the parish priest [of Sadad]and the [local]bishop that a number of the people are leaving Syria."