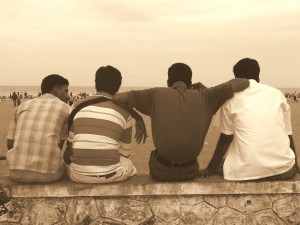 A March weekend in 2005 has affected my life as profoundly as almost any other event. Not only did my two-day experience improve the quality of my life, it probably saved my life. Numerous times.
I gained a true understanding about the invaluable importance of making my spiritual journey with companions.
And to think it nearly didn't happen.
Rewind a little further to 2003. That year, Donna and I decided to leave the Catholic parish I had first joined as a 5-year-old kid almost 38 years earlier. I went to school, received my First Communion and was confirmed in that parish. Donna and I were married in that church. All four of our children were baptized there, and the first three graduated grade school there.
The year before, we had transferred our youngest, Kara, across town to in St. Charles, Mo., to a different Catholic grade school for her seventh-grade year. There were several factors, just as there were several factors that later led our entire family to join St. Cletus Catholic Church.
Even though I knew it to be the right decision, the separation hurt my heart. We had been extremely active in the other parish but were hesitant to get involved right away at St. Cletus. Finally, one of the priests there invited me to be on a committee to help initiate the Christ Renews His Parish retreat program at the church. He knew the impact the Teens Encounter Christ retreats had on me when I was younger, and I enthusiastically said I would assist this retreat effort.
We schedule the first men's CRHP in March 2005. I planned to attend as a retreatant, and I was excited about it. Not only did I expect to spiritually enjoy the weekend, I thought I needed some retreat time. And I figured it would be a way to meet some of my fellow parishioners.
The retreat was to begin at 8 o'clock Saturday morning. I was packed the night before, but I went to bed amid mental and emotional torture. My major depression, which had begun dominating my life more than three years earlier, was overwhelming my mind and spirit.
That morning, I wanted nothing to do with anyone, much less explore my faith with a bunch of strangers. About the time I should have been leaving for the retreat, I lay on our couch, my back to the room, and refused to turn around.
"Mike, you have to go," implored my wife, who had to work all weekend and certainly didn't want to spend the next two days worried about me being home alone.
"I don't want to go anywhere," I replied. "I'm not going on the retreat. I can't."
Frustrated and concerned, Donna walked into the kitchen, where she saw a note on our refrigerator. It was the confirmation about my place on the retreat. Part of the note said that if anything seemed to be an obstacle to attendance, consider that it might be some sort of evil at work.
"Do not leave room for the devil to work." (Ephesians 4:27)
Donna walked back into the living room. "This is the devil," she told me. "Don't let the devil win."
Now, I'm not one who gives much thought to Satan and his efforts in this world. I prefer focusing on God so intently that the devil won't see any real opportunity in me. But those words grabbed me in a surprising way. Within minutes, I had fetched my luggage, gotten into the car and driven to St. Cletus. (I found out years later that Donna actually drove by the church parking lot later to confirm I had gone there.)
The retreat already had begun when I walked into the room. The men — both the retreatants and members of the presenting team — just had finished the process of introducing themselves. After I did the same, I was directed to sit at what would be my group table for the retreat. My priest friend was at that table. So was one member of the team, along with two other retreatants: Jim LaVictoire and Larry Boldt.
Though both were about 10 years older than me, I found over the next two days that we had a lot in common. Jim had recently joined St. Cletus after being a member of another local parish for many years. Larry had lived in the St. Louis area and a member of a nearby church for a while, then moved away for his job. He and his wife recently had returned to the area and just had joined St. Cletus as well.
Both men were hoping to meet people in their new parish. Jim had been in a Catholic seminary for a time in his youth and still was a dedicated Catholic; I had considered the priesthood as a young man as well. I didn't know it at the time, but Larry was discerning whether to pursue a calling as a permanent deacon; I was discerning the same thing.
The bonds we created that weekend have grown to be something powerful the last 10 years. Jim and Larry are two of my best friends. We have participated together in more than a half-dozen retreats since that weekend's encounter, and we're excited about making a five-day silent retreat together in August. We have supported each other through challenges in life and rejoiced with each other in some of life's grander moments.
And together, I think we have witnessed to God's love for many people around us. "Together" is a key word, as it was in a recent Sunday Mass selection from the Gospel of Mark:
Jesus summoned the Twelve and began to send them out two by two and gave them authority over unclean spirits. He instructed them to take nothing for the journey but a walking stick.
The Apostles took nothing for the journey but a walking stick … and each other.
I am making this spiritual journey on earth with several companions: My wife, Donna, is my best friend; we met on a TEC retreat and now pray together, attend Mass together, share our faith together. My "best friend I'm not married to" is another woman I met on a TEC retreat and with whom I also feel is spiritual companionship. I love sharing my faith with other people.
There is something truly unique about my friendships with Larry and Jim, though. They are the brothers I never had. We pray with and for each other. We discuss the joys and sorrows of our faith, share questions and insights.
I have found myself deep in depression often the last decade. Many times, I have been mired in intense thoughts of suicide, something they both acknowledge they don't completely understand. But they are compassionate men, sensitive and close to God. Their friendship has been a life-preserver more than once.
Someone once said this: "Life is a journey. Take a friend along."
Indeed, we are called to witness God's love in our lives. But we are not meant to witness alone.