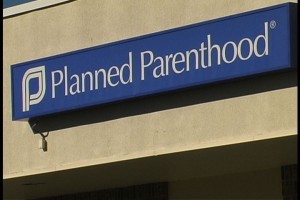 An undercover video released yesterday morning shows a national leader of Planned Parenthood admitting that the abortion provider uses the illegal and highly controversial partial birth abortion procedure to sell intact fetal body parts.
The average asking price for fetal body parts? Between $30 and $100 per specimen.
Dr. Deborah Nucatola has been senior director of medical services at Planned Parenthood since February 2009, where she oversees medical practices at all Planned Parenthood affiliates nationwide. She has been employed by Planned Parenthood for more than a decade. She also performs abortions up to 24 weeks in Los Angeles.
In the video, she met with investigators posing as buyers from a human biologics company on July 25, 2014.
While casually sipping wine and eating salad, Dr. Nucatola revealed that she charges $30 to $100 per specimen, and that fetal livers are especially in demand – although "a lot of people want intact hearts these days," and she has had requests for lungs and "lower extremities."
Planned Parenthood affiliates "absolutely" want to offer such organs, she said.
Nucatola admitted that Planned Parenthood's abortionists take great care not to appear to be profiteering off fetal body parts. She said, "They just want to do it in a way that is not perceived as, 'The clinic is selling tissue. This clinic is making money off of this.'"
The issue is not merely PR – there is also the little matter of federal law. Trafficking in human body parts is a federal felony punishable by up to 10 years in prison and a fine of $500,000.
The method of abortion she describes, on video, also appears to violate federal law.
Dr. Nucatola said she has "a huddle at the beginning of the day" to determine what fetal body parts consumers are requesting, and which patients that day will have babies from which they will be able to harvest them. Then Planned Parenthood abortionists tailor the procedure to assure they do not destroy the organs, maximizing profitability.
"For that reason, most providers will do this case under ultrasound guidance, so they'll know where they're putting their forceps," she said.
She revealed that, as abortionists are dismembering the child, they decide, "I'm not gonna crush that part. I'm gonna basically crush below, I'm gonna crush above, and I'm gonna see if I can get it all intact."
In order to procure intact organs, she seemed to describe herself and others performing the illegal partial birth abortion method.
"Some people," she said, taking another sip of wine, "will actually try to change the presentation so that it's not vertex [head first],"she continues. "So, if you do it starting from the breech presentation [feet first]…often, the last step, you can evacuate an intact calvarium [the head]at the end."
President George W. Bush signed a law outlawing partial birth abortion in 2003. It, too, is a federal felony punishable by two years in prison and a fine of $250,000.