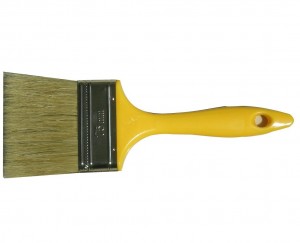 I'm busy repainting two pieces of furniture that have already served three generations of my family — a 3-drawer bureau and a tall dresser. Over thirty years ago I was getting married and in need of more storage space for my new home. My husband and I became the happy recipients of the bureau from my parents' home, and the dresser, once part of a pair from my grandmother's home. So there's a little bit of history stored between those dove-tailed wooden drawers. And here I am looking at their empty gapes spread out around the room on a drop cloth. This is the third time in twenty-five years that the chore of repainting these two old companions has fallen to me.
So I stand in old painting jeans, hair tied back, brush working in one hand, readying these drawer sets for a new purpose. I hum a little bit to the country music playing on the radio nearby, as memories float into view unbidden as I tackle the repetitive task. Back and forth, back and forth, dip, wipe, back and forth.
It's a good way to do some thinking, and remembering.
The first time I painted these two relics was in preparation for the birth of my oldest child. Oh, the heavenly anticipation of getting a room ready for a newborn! I recall the joy as I painted — repurposing a piece of furniture and making it "new" for a baby — the start of a new kind of family life in a modest two-bedroom home.
My heart was set on the primary colors of childhood, and I made the three drawers of the bureau red, yellow, and blue, on a white chest. I added a changing table cushion on top and in the years that followed I changed the diapers and clothes of my small children on that bureau, and countless visiting babies. Not to mention seeing the drawer contents change over the years, from 0-3 month-sized onesies, to toddler overalls, to soccer jerseys. Meantime, the old tall dresser was still giving good service to my equally tall husband as a place to keep his socks and lanky jeans.
Three children later, we outgrew the little two-bedroom place, and despite the luxury of relocating to a 4-bedroom house, we were still a little strapped for cash for new furniture. So, out came the brush and paint cans again, and a re-shuffling of furniture against the needs of a growing, busy family.
This time, both the bureau and dresser were given to my only daughter for her new bedroom. Her own young fashion sense had outgrown the bureau's primary colors and the ancient dark-stained dresser from generations of yore. I promised new coats of paint on both to match her new white headboard for her bed. I also remember going to the hardware aisle at the Home Depot to pick out shiny new ceramic knobs for updating this furniture, befitting a girl's room. And that's the way it stayed, even through her college years.
Now, it's my daughter's turn to marry and the soon-to-be newlyweds have just bought a small apartment-sized two-bedroom condo. It will have a few new things, and a few old things that they will bring from their single lives. My daughter gets to keep the bureau and dresser. And here I am painting again. This time, it's a white semi-gloss to match the mouldings of the new place.
The paint glides on. Back and forth… back and forth.I drag the brush, carefully feathering the brush lines to follow the wood grains and to avoid drips along the edges. The fresh paint covers years of aging and the dings and grime of real living… giving these things a new lustre to mirror the next phase of family life to come.
I reminicse about all the hands that have opened and closed these drawers. Lifetimes have unfolded in front of these pieces — as little girls and boys and moms and dads folded and unfolded clothes in daily rituals, read stories together and prayed prayers before bed.
Once upon it a time drawers were filled with so many delicate baby clothes, then big girl items like parochial school jumpers, volleyball uniforms, dance recital tights, blue jeans, bathing suits, and a zillion hair things. Today the contents are gently piled up in the next room as I work on the emptied drawers: sweatshirts from the college years that have given way to business attire, now gently folded, awaiting a new home.
I can see that my daughter has been to the store to buy new brass drawer pulls, that will add her own grown-up style to this furniture when I'm done.
No one can really calculate the love that goes into these kinds of home improvement projects, or in the things we create or restore. Maybe nobody else gives a second thought to the lasting nature of wood furniture that is cared for over the years and then handed down. After all, its people who are much more important than things. But just for a few hours, this  midlife mom sees within her day's work a sentimental intersect… my letting go of these old and dear pieces of furniture that have accompanied my own family-growing days, just happens to coincide with my soon letting go of my beloved daughter, as she embarks to create a family of her own.
I return to my humming and the rhythmic pattern of my work. Back and forth. Up and down. As the paint cures, the color tone gets deeper, richer.
I dip the brush to apply the final top coat. I know that the years beneath this new layer are sealed better in my heart than anywhere else. This is not good-bye, it is but a fair adieu… and I wait to visit these silent wooden spectators in the company of the generation to come.
"Do not lay up for yourselves treasures on earth,
where moth and rust consume
and where thieves break in and steal,
but lay up for yourselves treasures in heaven,
where neither moth nor rust consumes
and where thieves do not break in and steal.
For where your treasure is, there will your heart be also."
Matthew 6: 19-21