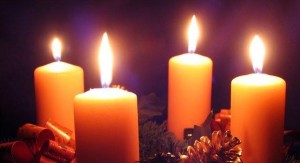 This is it — we've reached the Fourth Week of Advent and the fourth virtue for this series. We will conclude with a final summary next week, but for now, please take the time to revisit the past three weeks here and enjoy this last reflection.
WEEK FOUR (December 22-24): JUSTICE
"Justice … consists in the constant and firm will to give [one's] due to God and neighbor" (Catechism of the Catholic Church 1807). That which is due to God is the highest honor and glory; we must love him above all else, and put nothing before him. This is called the "virtue of religion." Giving what is due to our neighbor means respecting and promoting basic human rights and working towards the common good — treating everyone with charity, as we ourselves would want to be treated.
The Gospel for the Fourth Sunday of Advent tells the familiar story of the birth of Jesus. In it, we see Joseph as an example of a just man. Upon finding out that Mary was with child — a child that was obviously not his own — he made the decision to "divorce her quietly," because he was "unwilling to expose her to shame" (Mt. 1:19). Joseph wanted to abide by the Jewish law, but out of his love for Mary he did not want to condemn her to death (which was the punishment for adultery). As Pope Emeritus Benedict XVI says in his book Jesus of Nazareth: The Infancy Narratives, Joseph chose "the path that brings law and love into a unity." In order to be truly just, we must also seek to unite law and love in our interactions with both God and neighbor.
In these last few days before Christmas, it is especially easy to get caught up in the chaos created by the secularization of the season, so it is even more important now to remind ourselves that Christmas is a celebration of Jesus' birth and give him the honor that is due him. We should take time to reflect on the story of his birth, both by ourselves and with our families, and praise him for humbling himself and becoming man so that we might be saved from our sins.
It is also important to remember those who are less fortunate than we at this time of the year. There are so many people who feel lost and alone, like Mary and Joseph as they tried to find a room in Bethlehem. During this season that should be filled with love and joy, there are people who are without food or shelter or family. It is our duty to take care of our brothers and sisters, especially the poor and downtrodden. Every person needs and deserves love; we must shine forth the light of Christ's love in a special way to those who don't feel it. Visiting people in nursing homes who have no one else to visit them and volunteering at a local soup kitchen are two ways that we can show this love to those who need it most during this season.
This week, as we await the birth of Christ with eager anticipation, let us pray that we may fully enter into the spirit of the season. May we remember to give the highest honor to God today and every day, and love our neighbor with the same love that God has for us.
If you are still looking for the perfect Christmas gift for a family member or friend, please see our gift guide for ideas based on the Fourth Week of Advent.
Little ones: Lil' Prayer Buddy
Middle ones: St. Therese's sacrifice/"good deed" beads
Older ones: "Prolife Bear" t-shirt (for guys and girls)
Adults: Come Be My Light, by Bl. Mother Teresa