How to be a 24/7 Catholic!
The Catholic Briefcase: Tools for Integrating Faith and Work, by Randy Hain, Liguori Publications, November 23, 2011
Reviewed by Mark Armstrong
It is always interesting to see our Faith in action from those who arrive at Catholicism from a different Christian doorway.  Randy Hain integrates his life choices beautifully and includes valuable ideas on how to incorporate faith into our daily lives with his recently-released book, The Catholic Briefcase: Tools for Integrating Faith and Work.
The new book is a practical guide for those seeking insight on how to be Catholic 24/7.  Doesn't matter if you are behind closed doors in a business meeting or coaching a Little League baseball team…you stay engaged as a Catholic.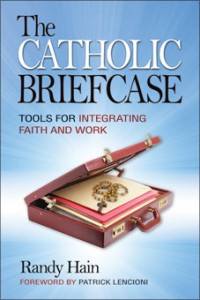 Randy sees Catholicism through his lens as a relatively recent convert (2006).  He attests that his earlier focus on success without Faith left him feeling empty. This changed for him when he was led to the Catholic Church.
Many already recognize Randy through the popular Catholic website,www.IntegratedCatholicLife.org which was co-founded by Randy and  Deacon Mike Bickerstaff.  The two are friends and collaborators on the website that focuses on integrating our lives in the secular culture with our Catholic values. The two contribute to the website and have invited scores of other Catholic writers to contribute on a wide variety of topics. Hain hails from Atlanta, Georgia and he and his wife Sandra have two sons.
This new book is also designed to be read and shared in a group setting, with questions to ponder or discuss.  Randy weaves in everything from Bible passages to early Church Father thinking.  In fact there is so much in the book it might seem a bit overwhelming at times.  Randy reassures readers in his Call to Action section to be not afraid:
It is okay to take baby steps on your journey.  Begin by being more attentive to the needs of others and trying to give back selflessly to one person this week.  That's a great start.  In the following week, add the Jesuit Daily Examen to your calendar and enjoy these three-to-five-minute periods of reflection in prayer.  Look for ways to connect with the larger Catholic community –  especially fellow businesspeople – for encouragement, support and ideas.  Above all, let go of the erroneous notion that you must leave the most important part of who you are at the door of your office.  Our workday, like everything else, belongs to God.  We must remember to give up our work to God's greater glory and not make it the mere pursuit of our own self-satisfaction!
Randy Hain's call to action will clearly resonate with those just starting their integration journey as well as others further down the path.  Order your copy at Amazon.
St. Therese of the Little Flower for Tweens
Olivia and the Little Way by Nancy Carabio Belanger. Illustrated by Sandra Casali LewAllen. Rochester, MI: Harvey House Publishing, 2008
Reviewed by Patrice Fagnant-MacArthur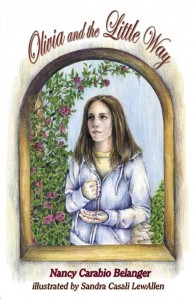 Olivia and the Little Way by Nancy Carabio Belanger is a sweet story about a fifth grader who is struggling to follow St. Therese. Her grandmother is the person who first introduces Olivia to the wonderful example of St. Therese. She shares how she asked St. Therese for help in finding a nice man to marry who believed in God. She prayed a novena (a prayer repeated over the course of nine days) and then waited for a rose (the symbol of St. Therese) as a sign that her prayer had been heard. She waited three long years for that rose, but it finally came the same day she met her future husband.
Olivia admires St. Therese's little way of making small sacrifices and she tries to emulate her as best she can. She prays to St. Therese for help in making friends at her new school and for guidance in making good decisions. Olivia is a real girl. She doesn't always do the right thing. She succumbs to peer pressure and gets in trouble with her parents. She keeps trying, however, and St. Therese does help both her and her friends. Though it takes a while, she finally does get her rose.
This is a lovely story written for tween-agers, especially tween girls. The story line draws the reader in until he/she really begins to care about Olivia and her friends, and introduces the reader to the St. Therese's Little Way.