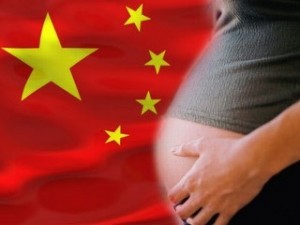 While 37-year old and five month pregnant Cao Ruyi has been allowed to return home due to the global public outcry against family planning officials of Changsha city, a U.S. based human rights group Women's Rights Without Frontiers is reporting that another young woman, 7-months pregnant with her second child, received a forced abortion in the Ankang City of  Zhenpin County.
Like Cao, Feng Jianmei was taken from her home by a dozen family planning officials while her husband was at work. China-based human rights organization 64Tianwang reported that after not being able to pay an exorbitant fine Feng's unborn child was forcibly aborted and the baby was placed beside her in the hospital bed.
Reggie Littlejohn, president of Women's Rights Without Frontiers expressed outrage at this incredible human rights violation:
No legitimate government would commit or tolerate such an act. Those who are responsible should be prosecuted for crimes against humanity. WRWF calls on the United States government and the leaders of the free world to strongly condemn forced abortion and all coercive family planning in China.
U.S. human rights advocate Congressman Chris Smith and the State department have both focused attention on the pending Cao Ruyi case. Although Cao was released after paying a partial fine, family planning officials reported that she would be expected to pay the entire $24,000 fine for violating the one-child policy or her child would be aborted this Saturday.
Victoria Nuland, State Department spokeswoman said the U.S. has been in touch with the Chinese regarding the imminent threat to Cao Ruyi,  "We make no secret that the United States strongly opposes all aspects of China's coercive birth limitation policies, including forced abortion and sterilization, and we always raise these issues with the Chinese government," Nuland said when asked by reporters about the case.
Congressman Chris Smith (R-NJ) drafted a letter to family planning officials and municipal leaders in Cao's home province informing them "The American society, media and even some countries in Europe are closely watching the development of this incident."  "…I ask you to pay attention to and seriously handle this incident and stop forcing Ms. Cao Ruyi to have an abortion and guarantee her personal safety, respect and protect the basic rights and personal dignity of human beings."
Bob Fu, president of ChinaAid has been communicating with Cao's husband Li Fu since the detention of his wife last week. Fu is grateful for the attention of the international community which  he believes led to the release of his wife.
ChinaAid calls on the residents of the three U.S. sister-cities of  Changsha to contact their mayors and local elected officials and ask that they pay attention to Cao's case.
Mayors' contact information:
Saint Paul, MN
Mayor Christopher B. Coleman
15 Kellogg Blvd. WestSaint Paul, MN 55102
Ph:  (651) 266-8989 and (651)266-8510
http://www.stpaul.gov/index.aspx?NID=309
Jersey City, NJ
Mayor Jerramiah Healy
Jersey City, New Jersey 07302
Tel:   (201) 547-5200
Fax: (201) 547-4288/5442
MayorHealy@jcnj.org
Annapolis, MD
Mayor Joshua J. Cohen
Annapolis City: http://www.ci.annapolis.md.us/government/departments/Mayor.aspx
Mayor's office at 410-263-7997, or e-mail him at Mayor@annapolis.gov