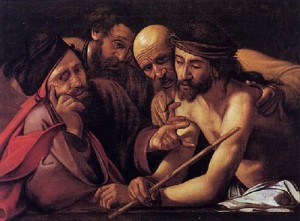 "Verily Thou art a God that hidest Thyself, O God of Israel, the Savior" (Isaiah 45:15).
Man is haughty and prideful, and in his conceit he constructs deities to suit his temperament: deities regal and terrible, blazing with fierce glory and swollen with righteous strength. It is not therefore surprising that so many fail to find the Divine, for the True God as revealed in and by Jesus Christ is altogether different. Those looking for a king will not pause to examine the servant standing right before their eyes.
God is not regal but humble. He is not terrible but merciful. He is glorious, strong, and righteous, but His glory is manifested in simplicity; His strength in weakness; His righteousness in tender concern. God is most perfectly revealed in the Pierced One: every other Biblical theophany must be seen in light of the cross.
This is the scandal of our faith. "For the Jews require a sign, and the Greeks seek after wisdom: But we preach Christ crucified, unto the Jews a stumblingblock, and unto the Greeks foolishness; But unto them which are called, both Jews and Greeks, Christ the power of God, and the wisdom of God" (I Corinthians 1:22-24).
The "Greeks" are those enlightened men who see the cosmos as a vast mechanism: cold, impersonal, disinterested. If they are religious (a big "if"), then their deity is a sort of First Mover, an abstract principle rather than a dynamic hypostasis. They cannot accept a personal God—if they accept any god at all—who identifies with humanity as Father, Brother, and Helper.
The "Jews," meanwhile, are those pious souls who entertain man's natural religious impulses and so view God primarily as powerful and just, a scrutinizing lawgiver and judge. They cannot embrace a God of weakness, a God who suffers and dies. Their deity is too proud for such humiliation. He is a master, not a servant.
To this day, most people are Greeks or Jews. They are blind to the gentle splendor of the Living God, for whom "strength is made perfect in weakness" (II Corinthians 12:9). This reality proves difficult even for Christians. How often we lament spiritual dryness while smugly walking about, self-satisfied and self-righteous, condemning the faults of others while ignoring our own engorged egos. Pride is blinding.
The Lord tells us, "Blessed are the poor in spirit: for theirs is the kingdom of heaven" (Matthew 5:3). In this world, the kingdom of heaven is not a place; it is peaceful and loving communion with the Trinity. We possess the kingdom of heaven—that pearl of great price—as part of our inheritance as sons of God. Yet we are only sons of God if we allow the Spirit to transform our souls after the image of the Son of God. Saint John writes, "He that saith he abideth in Him ought himself also so to walk, even as He walked" (I John 2:6).
How walked the Lord? We have His own words, "I am meek and humble of heart," (Matthew 11:29). Saint Francis sang, "You are love; You are wisdom; You are humility."
The God-Man's divine humility is summed up by Saint Paul thusly:  "Let this mind be in you, which was also in Christ Jesus: Who, being in the form of God, thought it not robbery to be equal with God: But made himself of no reputation, and took upon him the form of a servant, and was made in the likeness of men: And being found in fashion as a man, he humbled himself, and became obedient unto death, even the death of the cross" (Philippians 2:5-8).
Let this mind be in you. The Christian faith is concerned with one thing: the transfiguration of sons of men into sons of God. This demands self-emptying, self-sacrificial love: love working through and manifested in forgiveness, meekness, mildness.
This call to sanctification or "theosis" is daunting. Yet we need not fear, for the Paraclete dwells inside our hearts. "But we all, with open face beholding as in a glass the glory of the Lord, are changed into the same image from glory to glory, even as by the Spirit of the Lord" (II Corinthians 3:18).
Isaac of Syria, the seventh century ascetic and bishop of Nineveh, wrote: "No one has understanding if he is not humble, and he who lacks humility lacks understanding." If a man desires to know God—not as abstraction but as reality, not as idea but as Person—he must enter through the door of self-emptying love. This door was opened by Jesus atop the hill called Calvary—and Jesus stands open-armed on the other side.
Walk through that divine door, fellow Christian, and meet your gentle Savior!
"Humility is the raiment of the Godhead. The Word who became human clothed Himself in it, and He spoke to us in our body. Everyone who has been clothed with humility has truly been made like unto Him." –Isaac of Syria