He was oppressed, and he was afflicted, yet he opened not his mouth: he is brought as a lamb to the slaughter, and as a sheep before its shearers is dumb, so he opened not his mouth (Isaiah 53:7).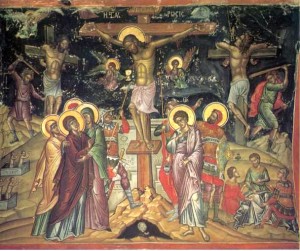 Perhaps the most stunning revelation of Christianity is the deep humility of God.  In Jesus of Nazareth, the Incarnate Word, we glimpse the meekness of the Most High. The radical messages of Christ—self-emptying, self-donation, self-sacrifice—express the innermost reality of the Triune Mystery, and allow humanity to see God in a totally new light.
The dominical teachings, summed up by the Beatitudes, are not mere rules. Jesus was not sent to give us behavioral guidelines. He was sent to actualize the love of the Father, and by this love to rescue mankind from death and darkness through obedience unto death. The words of Christ do not tell us how to be good, but how to be godlike. Thus He concludes His mountaintop sermon with this incredible charge: "Be you therefore perfect, just as your Father Who is in heaven is perfect" (Matthew 5:48).
Be you therefore perfect.  Since Jesus is the "Image of the invisible God" (Colossians 1:15), we witness the perfection of the Father in the Son. Hence we cannot excuse our failures on account of the incomprehensibility of the Divine. "He that has seen Me has seen the Father" (John 14:9). While there is obviously a dimension of God that remains forever inscrutable, we who look upon Christ look truly upon the face of the Absolute. This is the enigma of our faith.
What then does the Son tell us about the Father? First and foremost, He tells us that everything we thought about God is wrong. The mildness of Christ exposes the vanity and megalomania of our creaturely expectations. Saint Athanasius put it succinctly: "By what seems His utter poverty and weakness … He overturns the pomp and parade of idols" (On the Incarnation of the Word §1).
The reality of the Divine is totally at odds with the fantastical superman which springs into our minds when we imagine the Omnipotent.  "Learn of me, for I am meek and lowly of heart" (Matthew 11:29). The gospel subverts human notions of might and majesty on all levels.  "Let the brother of low degree rejoice in that he is exalted: but the rich, in that he is made low; because as the flower of the grass, so he shall pass away" (James 1:9-10).
This radical humility earned the contempt of Nietzsche, who could not not understand that the strength of the strongman is pitiful pretension; that it is weakness concealed by bluster; abject slavery to the passions. The prideful man is like a strong stallion . . . jockeyed by Satan. The meek man is a trembling donkey . . . soothed onward by the Prince of Peace.
The way of Christ is the way of "gentleness and freedom from anger," explained Evagrios the Solitary. He also wrote, "Free yourself from every impassioned thought." Indeed, the imitation of Christ depends upon the cessation of fallen desire. "Every man is tempted, when he is drawn away of his own lust, and enticed. Then when lust is conceived, it brings forth sin: and sin, when it is finished, brings forth death" (James 1:14-15).
The strength of God is limitless love, not coercion. The might of God is unconditional goodness, not compulsion. "You have heard that it has been said, You shall love your neighbor, and hate your enemy. But I say unto you, Love your enemies, bless them that curse you, do good to them that hate you, and pray for them which spitefully use you, and persecute you; that you may be the children of your Father Who is in heaven: for He makes His sun rise on the evil and on the good, and sends rain on the just and on the unjust" (Matthew 5:43-45).
Be you therefore perfect, just as your Father Who is in heaven is perfect. Do we realize what a tall order this is? Christians are called to be "partakers of the divine nature" (II Peter 1:4). Superficially, this sounds like an invitation to glory and power. In fact, it is a call to humility and service, for we worship the Crucified God, Who took pity even on demons (cf. Matthew 8:28-34).  "Christ also suffered for us, leaving us an example, that you should follow His steps: Who did no sin, neither was guile found in His mouth: Who, when He was reviled, reviled not again; when He suffered, He threatened not; but committed Himself to Him that judges righteously" (I Peter 2:21-23).
We cannot form ourselves into the likeness of Christ independently. We require the aid of the Paraclete: "But we all, with open face beholding as in a glass the glory of the Lord, are changed into the same image from glory to glory, even as by the Spirit of the Lord" (II Corinthians 3:18). Such communion is not a mental phenomenon, but a lived relationship founded upon trust, affection, and adoration. The encounter with God is genuine when we approach Him with penitent hearts free of deceit and delusion. The heavenly face can be spied only from the Cross. This sacred heart of Jesus is impenetrable to worldly wisdom. The gospel makes no sense to those puffed-up with carnal knowledge and distracted by transient things. "Where is the wise? Where is the scribe? Where is the disputer of this world? God has made foolish the wisdom of this world" (I Corinthians 1:20).
Jesus promises us: "If a man loves Me, he will keep My words: and My Father will love him, and We will come unto him, and make Our abode with him" (John 14:23). We keep His words through imitation of His poverty and simplicity, His charity and discipline, His meekness and purity, His forgiveness and tranquility. We keep His words by finding no righteousness in our own flesh, and attributing all our spiritual progress to the fearsome toil of the Spirit.  "With men this is impossible; but with God all things are possible" (Matthew 19:26).
We are so quick to call ourselves Christians. Yet who among us could say of vicious tormentors, "Father, forgive them; for they know not what they do" (Luke 23:24)? It is a question worth pondering, given that we love God only as much as we love our enemies. We loudly declare our discipleship. Yet who among us is ready to surrender himself for Jesus' name? It is a point worth considering, given that we live in Him only by dying for Him.
Let this mind be in you, which was also in Christ Jesus:
Who, being in the form of God, thought it not robbery
to be equal with God: But made Himself of no reputation,
and took upon Him the form of a servant,
and was made in the likeness of men:
And being found in fashion as a man, He humbled Himself,
and became obedient unto death, even the death of the cross (Philippians 2:5-8).