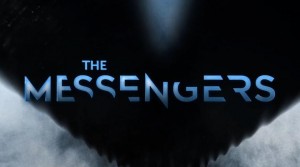 The new TV series The Messengers is an end-times drama in the battle of good and evil. But first, before tuning in, suspend any theological expectations–it is fiction after all.
The plot centers on a group of five young people with no connections to one another. An energy pulse courses through them, killing them, after a mysterious object falls to Earth causing a blinding explosion. They come back as angels, each with their own "special powers," to defeat Satan as he sets out to destroy mankind.
In the first episode, we walk through the lives of these strangers whose unifying trait are painful troubles in their lives. Since people don't become angels after they die, the very loose translation of the end times begins right away.
The creepiest character is someone named "The Man," who brings death and suffering wherever he appears. He is the devil himself and creates a cliffhanger ending in the first episode when one of the angels is pressured to make a gut-wrenching choice.
The program is not for a younger audience. In the first episode, a teen girl defends a boy who is being bullied, by alluding to the bully having a small male organ. There is also a gory shooting and a bloody fistfight in which someone dies.
The manifestation of evil should also be too scary for kids but for older audiences, I see no problem. Evil is scary and it's also real, so watching an intriguing series about it is a good use of the airwaves. I'm a pansy when it comes to tension and evil forces, so it's not typically my type of viewing. But darn if I'm not intrigued now as to how the cliffhanger is going to be resolved in the second episode.
It begs the question: What would you do in this situation? My calendar is marked.
The Messengers stars Shantel VanSanten (Gang Related, One Tree Hill), Jon Fletcher (City of Dreams), Sofia Black-D'Elia (Betrayal, Gossip Girl), JD Pardo (Revolution), Joel Courtney (Super 8) and Diogo Morgado, (plays Jesus Christ in the Son of God film and the history channel series The Bible.)
Morgado is "The Man" aka Satan.
It premiers Friday, April 17 at 9/8 Central on The CW Television Network