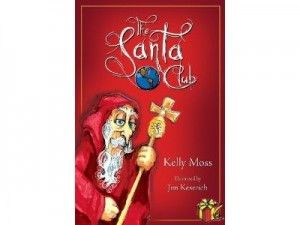 I know that some people don't allow their children to believe in the Santa myth for a variety of reasons. My parents fell into this category. But, when my children were little, I decided to allow them to enjoy that magic while making sure that they were truly aware that the true reason for Christmas was Jesus. Belief in Santa Claus was only a small part of our Advent and Christmas celebration. They knew that Mom and Dad provided most of the presents underneath the tree but each year, Santa brought one. They also knew that they had to make or buy presents for other people. Still, that belief was important to them.
My mother broke the news to my children that there was no Santa last year – two weeks before Christmas. It wasn't pretty. My two boys were crying uncontrollably and we made an extremely hasty retreat from Memere's house that day.
They were certainly old enough to know the truth, and I had planned on telling them right after Christmas, but my younger son asked my mother and she had no problem at all dishing out the cold, hard facts of the situation while I could only watch in shock.
In a way, it was a blessing. She saved me from being the bearer of bad news. Their anger was directed at her, rather than me. And truly, they got over it rather quickly. Thankfully, they still had a wonderful Christmas and still enjoyed watching Santa circle the globe on the Norad Santa Tracker (a great geography lesson!)
Still, it seems like there should be a better way to handle that inevitable question. I think that Kelley Moss has found it.  Sixteen years ago, her six-year-old son posed that same query to her and she was speechless. Thankfully, she was in her mother-in-law's kitchen and the elder woman took over quickly. She explained about St. Nicholas and how he secretly gave gifts to poor children and families. When he died, others started a club to continue the tradition. This was a group of other secret "Santas" who went on to give gifts to others to celebrate the birth of Jesus Christ. She invited the young boy to become part of this club. He was thrilled to join, and the following year, when his younger brother was old enough to ask that same question, he was ready with an invitation to the club!
This year, Kelley Moss, a national speaker on "The Gift of Giving," published The Santa Club, designed for parents and children to read together when the time is right. Beginning with the Biblical quote, "It is more blessed to give than receive," (Acts 20:15) the book helps to foster generosity in children.  It even contains a certificate at the end to officially designate a child as a member of the secret organization. The Santa Club has met with wonderful reviews, even winning a Mom's Choice Award, awarded to those who create family-friendly media resources.
The corresponding website, The Santa Club, offers more information on the book as well as suggestions of ways to give.