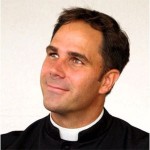 Catholics throughout the world might be familiar with Fr. Donald H. Calloway, MIC as a frequent conference speaker. In many of his talks he shares the story of his radical conversion to the Catholic faith, recounted in another book, No Turning Back: A Witness to Mercy. Due to his frequent conference appearances he has developed a series of talks covering an array of topics. These talks have been collected and are presented in his latest book Under the Mantle: Marian Thoughts from a 21st Century Priest. In addition to writing about Mary specifically, Fr. Calloway seeks to weave Mary into many theological topics and discussions including: the Catholic Church (ecclesiology), Confession, priesthood, prayer and devotion, Divine Mercy, masculinity, and femininity.
Under the Mantle makes a wonderful contribution to Mariological research because of the format of the book. Each of the nine chapters is divided into three sections. In each of the sections Fr. Calloway develops and argues a specific theme. At the conclusion of each chapter section, Fr. Calloway then provides a section labeled Marian Gems, which are a compilation of quotes from the saints that support Fr. Calloway's arguments.
New Insights
Fr. Calloway will provide the reader with new insights about Mary and Catholic theology. This was true for me. One way Fr. Calloway does this is by employing the use of analogies by which he proposes new ways of thinking about topics (e.g. in Confession, Jesus is the doctor, and Mary/the Church, is the nurse).  As Fr. Calloway reflects on the role of the Virgin Mary in his conversion and life, he invites the reader to do the same and gain new insights into their life. While reading the book, I began to trace my own Marian history—specifically thinking about the source of my Marian devotion. When did it all begin?
Fr. Calloway also finds Mary in ways that you may least expect. One such case was his presentation of a scripture passage which he considered to be Marian, namely John 3:3, in which Jesus says unless a man is born again, he cannot enter the Kingdom of God. Fr. Calloway sees this as a Marian reference because Jesus speaks of spiritual re-birth; and for a birth to happen, there needs to be a mother—our spiritual mother—Mary. Furthermore, Fr. Calloway referred to Jesus as a New Noah, a title that I was not familiar with, and the Church as Jesus' ark.  I had heard of Jesus as the New Adam and New Moses, but not as New Noah. If Jesus is the New Noah, then Fr. Calloway asserts, that we can see Mary is the Ark of the New Covenant, a title and role that many Catholics may be familiar with (87).
Writing as a priest and a vocation director for his religious community, Fr. Calloway provides tremendous insight into the role of Mary in the life of seminary formation and priestly ministry. In 1989, the late Fr. William Cole, SM, former president of the Mariological Society of America, addressed the future of Mariology. One of his focuses was on the lack of Marian preaching among clergy. Fr. Calloway insists on the necessity of the priest to incorporate Mary into his homilies. He writes: "I guarantee that a priest will have an extremely fruitful ministry if he places before the eyes and hearts of his people the beauty and loveliness of Mary" (144).  Fr. Calloway also belongs to the Marians of the Immaculate Conception, known for their promotion of the Divine Mercy message revealed to St. Faustina. In the book he made an interesting connection of Divine Mercy to Mary, specifically that Mary's Immaculate Conception was an act of God's Divine Mercy.
If you were to ask me what is wrong with today's society, I would say that people do not know how to pray or they become discouraged in praying, so they stop altogether. In his chapter on prayer and devotion, Fr. Calloway does a very nice job laying out why prayer is necessary by presenting it as a spiritual marriage.  In any marriage there may be difficulties, but a person needs to persevere.  When there are "dry" or "desert" experiences in prayer, fidelity at these times is of the utmost importance.
In the final two chapters of the book, Fr. Calloway focuses on masculinity and femininity. In his chapter on manhood, Fr. Calloway spoke about the emasculation of young men today. He also mentions crises that face society today, such as fatherless homes. He posits that men need to be virtuous. They must teach their sons to pray. The example of a father praying with his children conveys the importance of prayer specifically that it is even manly to pray.
Fr. Calloway made a poignant statement that resonates with me. He said that men need women to remind them of the reasons why they fight (242). As a man studying to be a priest, it is easy at times to get discouraged by one thing or another. I have found that when I have visited convents of consecrated religious women, I always left spiritually renewed. The witness of women vowed as brides of Christ renews me in my own conviction and fidelity toward the Church. While Fr. Calloway may have referenced this in light of men and their wives, I would like to suggest the same is true for priests and seminarians.
In his last chapter on femininity Fr. Calloway proposes Mary as the model of womanhood, that she teaches a woman what it means to be a woman. In reading this chapter I was left with the overwhelming impression that Fr. Calloway understood and explained well the crisis plaguing women today. This chapter will hopefully revolutionize the worldview of both men and women alike who read and reflect on it.
Conclusion
In a no-nonsense approach, Fr. Calloway holds nothing back and tells it the way it is or at least the way he sees things. Fr. Calloway does not mince words and if someone has heard him speak, it is assured that as they read Fr. Calloway's book, it will be as if you are hearing him speak it for yourself. As Fr. Calloway reflects on the role of Mary in many different ways, the reader will definitely grow in their appreciation for the Mother of God, and in so doing, also in their love for Jesus and His Church. Despite any shortcomings the book may have, a reader will find a Marian gem in Under the Mantle not only because of the developed thought of Fr. Calloway, but because of the Marian Gems that he himself has collected in this work. I am certain that this book will become a resource when searching for Marian quotes of the saints of our Catholic tradition.