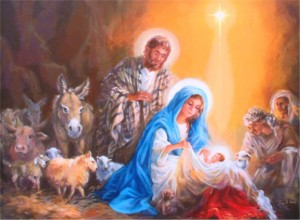 Our pastor shared this story at Mass on Sunday:
As many parishes do at Christmas time, a parish in New York was having a pageant acting out the Nativity story. A little boy named Tom was taking part. He was mentally disabled, but was very excited to be in the pageant. He was playing an innkeeper and practiced his line over and over again until he had it down perfectly, "There is no room in the inn."
The big night came and he was ready. When Mary and Joseph came up to him, he delivered his line just as he had practiced. Everything was going as planned, until the Holy Couple walked away from him sadly, at which point he called after them, "Wait! You can stay at my house."
That little boy obviously had the spirit of hospitality alive and well within him. If he had been back in Bethlehem two thousand years ago, our Christmas story might have had a slightly different setting. But what about us, living today? Do we have that spirit of hospitality?
For some, it comes easily. Their door is always open. There is always enough food and one more is always welcome at the table. They have a special gift for making everyone feel welcome. I love those people and am so thankful for those that I know.
As an introvert, I've always struggled with hospitality. Quite honestly, people frequently stress me out, so inviting people into my home isn't that easy. But as is often the case with our weaknesses, God has provided me with plenty of opportunities to practice it. And, I'm happy to report, I'm getting better. If only because it is such a weakness of mine, I make a concerted effort to be welcoming to anyone who wants to come to my home.
Sometimes it is easier to be open and welcoming with strangers, or those individuals we see rarely, than it is with family members. Sometimes, the people we need to be most hospitable with are the people who are closest to us. This can include those who live in our very own homes. This time of year, we are called in a special way to be hospitable, to open the doors of our homes and our hearts. How often do we slam the door shut, claiming that "there is no room in our inn." We are called to make room. Will we welcome Jesus, disguised as members of our own families, into our own inns?