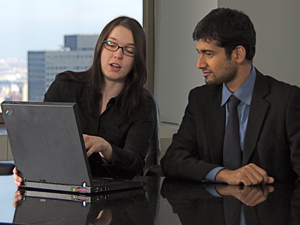 Over the years, I've worked with numerous business owners who have spent a considerable chunk of change building their websites. Then they sit back and wait for results … but the results are often less than stellar.
The owner is discouraged and thinks all this Internet marketing stuff is a bunch of hooey.
It's not a bunch of hooey. There's a reason many websites under-perform. By under-performing, I mean …
Pages don't attract traffic from Google searches
Pages don't convert to leads
Pages don't increase in-store traffic
Pages don't convert to sales
Remember, the website itself may look thoroughly professional. Design isn't always the problem.
The typical problem is that the owner hired a firm or someone to build the website who is great at web "technical" development, but who doesn't grasp the importance of web "content" development and copywriting for SEO and conversion.
So the web technical developer relied on the owner to give him the text or content.
He expected the owner to know …
How to research, discover, and select keywords
How to write persuasive helpful copy
How to write the above using search engine optimization (SEO) best practices
How many words should be on each page
That you need words on each page (not just images)
Where to place the text for optimal eye-tracking
How to keep the visitor moving through the pages
Where linking is important
Where linking is counter-productive
How to write title tags for SEO and grabbing attention
How to write description tags for click-throughs to your website
All of the above, and more, is critical for an effective website.
Now I have a couple of theories about why most web technical developers don't stress the importance of hiring someone to help with content.
One is that web technical developers are so involved with what they do, they simply don't realize how difficult it is to organize and deliver good custom content. My second theory is that some web technical developers are afraid to tell clients.
You see the price of web site building is being driven down by fierce competition, so developers are trying to keep prices hard-rock bottom. They don't wish to tell clients that they should also hire someone who can do copywriting for SEO, as that will significantly raise the overall cost.
But those developers are doing a huge disservice to their clients. Clients end up with websites that can't be found by search engines and with ineffective web content — losing them customers and profits.
The good news is that it's never too late to improve a standing website, especially if the underlying design is good.
All you have to do is find someone skilled at web content development and copywriting for SEO.
By the way, $15 a page content providers just won't cut it.