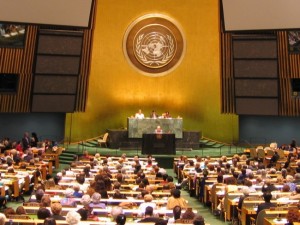 The Obama administration's placement of LGBT rights at the forefront of U.S. foreign policy has caused backlash against LGBT rights in many parts of the world. But after repeated failures to re-define the family to include homosexuality, something may be about to change at UN headquarters.
Obama's multi-year campaign to discard the Universal Declaration of Human Rights' longstanding description of the family as the "natural and fundamental group unit of society" may pay off as the United Nations celebrates the 70th anniversary of its founding in September this year, and a new UN agreement on development is adopted by world leaders.
UN delegates are deep into the final two weeks of negotiations for a massive new UN development scheme to tackle poverty and promote economic and social development that is environmentally friendly. The subjects up for negotiation are legion, but in the back of everyone's mind is also the fate of the family.
The Universal Declaration of Human Rights and other binding and non-binding UN agreements recognize the family as resulting from the union of a man and a woman who freely marry. International law and policy make provision for children born in irregular situations or out of wedlock not to be discriminated against, and special protections for single mothers, but do not recognize same-sex relations as capable of constituting a family.
In recent years UN member states have rejected the phrase "various forms of family" in UN agreements, because North American and European countries see it as recognizing same-sex "families," and it does not appear that such language could make it in a UN agreement anytime soon.
Delegates from around the world have told C-Fam, publisher of the Friday Fax, that U.S. diplomats at the highest levels have been pressuring capitals and missions to ask countries to soften their posture on family language in UN resolutions. Delegations that are unable to support LGBT rights are usually asked to abstain and not show up for voting on resolutions. In this case they have been asked to refrain from proposing language from the Universal Declaration of Human Rights.
Even staunch opponents of LGBT rights appear ready to jettison settled language declaring the family as the "natural and fundamental group unit of society." An exception is the strong statements from African countries.
A delegate from Cameroon told the General Assembly his delegation wanted to see "family" and "culture" recognized in the final agreement.
Ambassador Usman Sarki of Nigeria was also adamant about seeing the natural family reflected in the final outcome and not "various forms of the family."
Sarki's said, "There is no possible rational justification for member states to sit in conclave on issues that will not be implementable at the national level." In a reference to the pressure for LGBT rights, he said, "Abortion for instance, or reconfiguration of the family, or endorsing behavior that goes against the grain of traditionally accepted practices."
Recognition of same-sex "families" may be a long way off, but if the Obama administration has its way and gets UN member states to forsake the Universal Declaration of Human Rights, it may pave the way for future recognition of homosexual relationships as family in international law and policy.