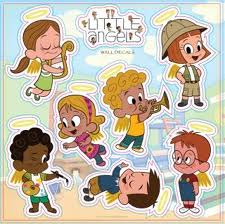 Beautiful Irish Catholic actress and mother Roma Downey has produced a new series of DVDs for children called Little Angels. I recently interviewed Roma about the new series, her favorite charity and her devotion to the Blessed Mother.
To celebrate the release of Little Angels, Grace Hill Media, a company that promotes quality entertainment for faith-based audiences, has graciously provided five DVDs to be given away to Catholic Lane readers. Details are provided at the end of my review.
Although my children are too old for Little Angels, I certainly wish the series had been available when they were younger. (For the record, my children sat down and watched for a few minutes while I previewed the DVD, and they were drawn in by the music and colorful animation.) Other than Veggie Tales, there few DVD series available for children that are captivating and entertaining while teaching about Scripture and virtue.
Little Angels is not a preachy series, but is fun and educational.  Not only are children taught virtues such as perseverance, they are also introduced to several Bible stories and practical skills such as A-B-C's and counting. The themes are cleverly woven together as four year-old twins Alex and Zoe are visited by eight angels who watch over them and teach them.
Today's tech-savvy toddlers will appreciate Dina, an angel who carries an ipad to interact with the children. Parents will no doubt be begged by their children to download the Little Angels apps for  iphones and ipads (available soon). Features of the apps will include daily prayers, matching and coloring games and even a cooking app.
The quality of the series is excellent, and the animation is a refreshing change from those ugly stick-drawn cartoon characters that seem to be so popular now. The music is infectious and your toddlers will soon be singing along, learning as they go. (Interestingly, Roma's daughter and son contributed to the Little Angels score.)
I highly recommend the Little Angels DVDs and accompanying CDs. You can view a sample of the series and meet the characters at www.littleangels.com
*Catholic Lane readers have an opportunity to win one of 5 free copies of the Little Angels DVDs. Simply leave a comment on this article, and you will be entered in the contest. Remember, you must first log in or register as a new user in order to leave a comment. Deadline for entering is Saturday, November 12th at midnight Pacific Standard Time. Winners will be notified through their registered email addresses, and the names be posted in the comment section below on Monday, November 14th.Be sure to check back in case the email didn't get through your spam filter. If winners do not respond with a mailing address by November 20th, then a new winner will be selected.