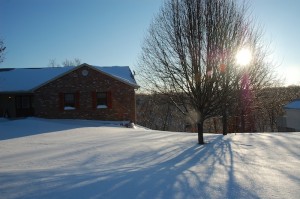 I never have been a big fan of winter. Give me 90-degree temperatures with a chance to wear shorts and a T-shirt rather than 20 degrees, layers of clothing and slick streets. I'll take baseball, walks to the ice cream shop and the smell of fresh-cut grass any time.
Well, there is one thing I like about winter.
The silence.
I'm thinking of an evening after an all-day snow has fallen. A blanket of white covers the back yard, still perfectly untouched by anything except my dog's paws in a few places. The air too cold and the streets too treacherous, there are no people walking down the block and no cars driving around.
I can smell fireplaces burning. I can feel the pinch of the cold against my face. I can see my breath.
I can hear nothing.
That's so sweet. And so unusual. In a world filled with noise, it might feel a tad jarring to find yourself in a vacuum shutting out all that sound. Although I think peace can come in many forms, in any place and situation, I certainly found myself overwhelmed with a clear sense of peace in such moments during some of the snows we have received.
I would stand there and feel the embrace of the silence — a "classroom of silence," as a friend of mine calls such moments. This friend, another friend and I are planning to attend a silent retreat this summer, and we are looking forward to some time of being able to leave everything behind, shut everything out and be alone with God and God alone.
But even in the quiet, we don't automatically enjoy true silence. We can shut off all the sounds heard by our ears, but we can't so easily turn off the noise in our heads. All those invading thoughts, those ideas and faces and reminders and heartaches and worries that interrupt our desire for peace.
Our desire for holy silence.
"Be still, and know that I am God," Psalm 46 says so famously. If only God would show us an easy way to that stillness, to that silence, to that knowledge. If only we could block out all the clanging distractions that rattle our external and internal ears.
It's not easy even in the places where it should be. I've sat in the eucharistic adoration chapel at our church, and immediately my mind starts to talk. I want to read the Bible or say a Rosary or pray for people in need. Eventually, God grabs ahold of me and gently coaxes me to shut up, to sit and just be.
I've sat in church before receiving the Sacrament of Reconciliation and my mind raced with considerations of the sins I should confess, then afterward I said prayers of penance and gratitude until, eventually, God grabs hold of my heart and tells me to simply be.
And there is Mass. I love our liturgy. I love the prayers. I love music. But must we fill every moment of Mass with ­something? When someone says we should have a moment of silence, it should last more than seven seconds, more than two breaths. One minute, two minutes, three — it seems so long because we spend so little time in true silence.
It's Advent, so I am taking my twice-a-year fast from noise — every Advent and every Lent. Not completely, mind you. But I don't listen to music on my computer at work. And on my commute to and from the office each day, I turn off the radio and CDs. For those two 30-minute drives, I try to shut out the world and turn off my mind.
My quest is a real and deep silence. An opportunity to be completely still.
And know that He is God.