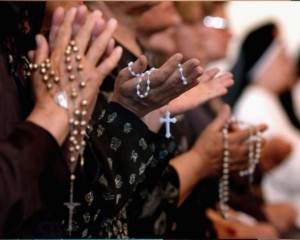 Held by terrorist captors, an Iraqi woman named Khalia resisted their demands that she abandon her Christian faith.  Her story was told at the UN this week, along with other accounts of atrocities suffered by Christians and religious minorities in the Middle East at the hands of the Islamic State, or ISIS.
According to experts, 80% of acts of religious persecution worldwide are committed against Christians.  At an event hosted by the Holy See along with CitizenGO, Mas Libres, and In Defense of Christians (IDC), experts and victims called on the international community to stop the violence, provide humanitarian support for victims, and ensure religious freedom to Christians and other minority religious groups.
Defining the situation as genocide is an important step in determining an appropriate response.  Last month, the United States formally declared the actions of the Islamic State to be genocide, joining Pope Francis and the European Parliament.  This finding by the U.S. was credited in part to a report submitted by the Knights of Columbus and IDC.  Khalia's account is one of many contained in its almost 300 pages.
This marks only the second time such a determination was made by the U.S. government while the crime is still occurring, said Carl Anderson of the Knights of Columbus told the crowd at UN headquarters this week.  While the evidence is sufficient to declare a genocide, Anderson stressed that much more remains to be uncovered. "What we know today is likely to be only the tip of the iceberg."
Nigerian Bishop Joseph Danlami Bagobiri related how the growing Christian minority in northern Nigeria suffers ongoing violence from Boko Haram, which has killed more people than any other terrorist group.
Persecution and forced displacement is threatening to wipe out the Christian community that remains in Iraq, said Fr. Douglas Al-Bazi, an Iraqi priest who had been kidnapped and tortured. "Soon we will be small enough for the world to forget us completely."
Carl and Marsha Mueller brought the audience to tears as they spoke of their daughter's bravery and compassion during her brutal captivity by ISIS in Syria.  Kayla Mueller, an American aid worker, refused to abandon her faith, even correcting one of her captors who assumed she had succumbed to pressure to convert.
Yazidi teenager Bahar Zndnan spent six months and 12 days as a 13-year-old captive of ISIS. She and other girls were sexually assaulted, older women killed, and Yazidi boys sent to camps to be brainwashed and trained as future ISIS terrorists.
ISIS seeks to eradicate minority groups by attacking the most fundamental elements that bind them together and define their identities: the family structure and their religious sites and symbols, said Dr. Elisa von Joeden-Forgey, a genocide scholar,
Several speakers called on the UN Security Council to refer the situation to the International Criminal Court.  On April 20, the British House of Commons voted unanimously to declare ISIS is committing a genocide. The British government has so far declined to act on the motion.  Like the U.S., the UK has a permanent seat on the Security Council.
The event launched a three-day WeAreN2016 Congress in New York, which will also premiere "Insha Allah – Blood of the Martyrs," a documentary on persecuted Christians.