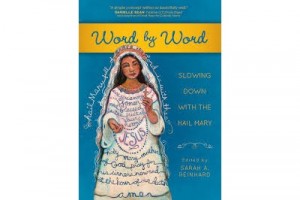 The Hail Mary is such a beautiful prayer in honor of our Blessed Mother, one every Catholic knows. Sarah Reinhard, a convert to the faith, describes the Hail Mary as her "blankie prayer . . . Just as my children cling to their worn-soft, faded blankies, so I cling to my Blessed Mother's skirt through this prayer. When my heart aches, I cry out a Hail Mary. When I need to be held in my sorrow, it's a Hail Mary that comes out. When I'm worried or troubled, the words I can't find on my own shape up as a Hail Mary."
The Hail Mary is so familiar that we can often end up saying it without thinking deeply about it. It is still a prayer, still comforting, but sometimes it is good to slow down and really pay attention to the words. In Word by Word: Slowing Down with the Hail Mary (Ave Maria Press, 2015),  Reinhard invited a who's who of modern Catholic writers to each reflect on one word of the prayer, including the words "the" and "of." No word is unimportant in this classic prayer. Each reflection also includes a prayer of its own.
Each reflection is well-done and worth spending time with, but it is only natural that certain reflections will touch individual readers at a given moment of his or her life more than others. So, I offer you a few quotes that spoke to me.
Kate Wicker on "Grace": "God called me to be a wife and mom. Every day he asks me to relinquish control, to bend to his will, to trust as Mary did even when I don't understand what's going on. . . .Will I answer his call? Will I accept he wants nothing more than to bless me, to lavish me with grace, and to lead me in living a life of trust and surrender to him?"
Julie Davis on "Thou": "Thou is the intimate, familiar form of the word you from Early Modern English. . . "When I think of 'Blessed art thou among women' it is as if I hear God tenderly speaking with great love through his messenger, the archangel Gabriel."
Michelle Buckman on "Mother": "Christians often ask, 'What would Jesus do? But I also like to ponder, 'What would Mary do?' because she understands the demands of motherhood."
Susie Lloyd's humorous take on "Death" is also not to be missed.
Word by Word would be perfect to use in an at-home or small-group retreat, reading and reflecting on one word a day for the 42 days. Reinhard and all the writers who offered their reflections have given Catholics a wonderful gift in this book.