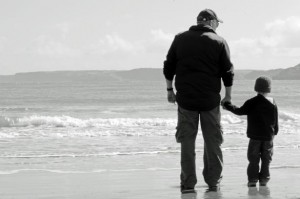 I love music. I love good music. I really love great music.
But it truly is in the ear of the beholder as to what makes good or great music, isn't it? I mean, I love The Allman Brothers; many people don't like the bluesy sound and long jams. I love the work of the late Rich Mullins; many people who aren't Christian probably wouldn't, and even some Christians wouldn't like the style.
I like classical music – when I'm in the right mood. I like a lot of 1960s and 1970s pop, heaven help me. I really enjoy Sinatra and Bennett and Nat King Cole and the Big Band sounds of the '40s. I know people that can't stand that.
My absolute favorite music, though, was heard in my house earlier this week. It was the voice of my 6-year-old grandson, Colin.
Now, I'm not saying he was reminiscent of Michael Jackson, who started singing with the Jackson 5 when he was 5 years old, or Donny Osmond, who was 5 when he appeared on The Andy Williams show with the other Osmond Brothers. But there was something cute about Colin's voice, simple and honest. And yes, angelic.
He was playing with his cars and singing to himself the chorus from the Matt Maher song "Lord, I Need You":
Lord, I need You, oh, I need
You Every hour I need You
My one defense, my righteousness
Oh God, how I need You
Before I realized it, I had started humming the song and then singing it along with him. "I really love that song, Colin," I said. He responded: "It's my favorite church song, Pops."
Yep, you guessed it: I started to cry. Grandkids – those little innocents – have a way of doing that to grandparents. The house is a little more crowded and activity level considerably higher with daughter Jessica, son-in-law Donny, Colin and his 18-month-old brother, Lukas, living with us these days. They are hoping to sell their condo and then save for a house. But I wouldn't trade these last five months or so for anything.
I love being Pops. I love having them around.
I love it that every evening, when I get home from work, I ask Colin: "How was escuela hoy?"
And he always gives me a thumbs-up and says, "Muy bien!"
He's in the first grade at St. Cletus Catholic Church in St. Charles, Mo. That has been our home parish for about 10 years now. It's a wonderful place filled with wonderful people. Every Mass has a distinct vibrancy. The people in the pews participate. They actually sing with joy and enthusiasm.
Credit goes to many people. Father Jim Benz, the pastor, is a true shepherd of the people and perhaps the most pastoral man I've ever met. Carrie Wolf is passionate as the music director. I don't even want to begin trying to identify others who pour their heart into Mass and parish activities. But I will say that Roseann Doherty, who has been the school's principal for many years, has created a wonderful atmosphere for the students.
I don't know if Jessica and Donny will be able to afford to continue sending Colin – and later Lukas – to St. Cletus School or any other Catholic school if they move. It's not an easy-on-the-budget tuition for young, working-class families. I do think you can't put a price on the religious education and the foundation of faith children get in a Catholic grade school.
And they attend Mass during the school week. That's a blessing that provides amazing graces.
I witnessed some of that grace this week when I got to hear a special boy's voice singing his favorite church song. I sing "church songs" to myself throughout the day every day. It's like the background music for my brain. And that particular song often seeps into my consciousness in a profound way.
For one thing, I do need Him every hour. You see, at work I daily set my computer to pop up an alert every hour, on the hour. I stop whatever I'm doing – unless I'm on the phone – and pray for certain things. I pray for peace, to be in God's presence, to desire God more than anything, and for special needs for people in my life.
The last couple of weeks, though, I'm not the only one who needs Him every hour. Well, obviously, we all need the Lord every hour. But there have been people in special need who have crossed my path:
A teenaged girl who has been in a treatment center for bulimia and other mental illness reasons since before Thanksgiving, with no clear sign of being ready to leave soon. … A young man whose anxiety has increased to the point of taking his medication inappropriately and sneaking alcohol. … A man who also has been battling severe anxiety for the last year, now complicated by a divorce, and desperately needs to find an inpatient program. … A friend who is out of work, which is testing further her treatment-resistant depression.
As I prayed for those people and others whom God has laid on my heart, I heard Colin's voice singing and then began singing to myself the first verse:
Lord, I come, I confess
Bowing here I find my rest
Without You I fall apart
You're the One that guides my heart
From the mouth of an angelic 6-year-old singing his favorite church song to the ears of God – all for the hearts of people in sad, serious, often-desperate life situations. I hear often from people struggling with depression, bipolar disease or other chronic illnesses that have their lives turned upside-down. I hurt for them and with them. I so very much want to have answers for them.
And this is what I want to give them: Approach the Lord, find your rest in Him, for He will keep you from falling apart. Let Him guide your heart.
You need Him. He is waiting for you.
I am so very glad Colin is learning in a Catholic school and attending Mass there. He doesn't know it, but his childlike heart is what we all need to attain heaven. His singing is a prayer for all of those in great need.