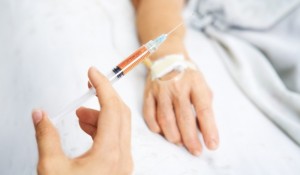 Growing up, I always knew what I wanted to do for a living. I also had a ready list of things I would never pursue as a career. Carpentry, for one. I tended to have all thumbs when it came to hammers and saws and wrenches. Schoolteacher, for another. Not nearly enough patience. I wouldn't have minded working as a chef, but patrons of my restaurant would have to like hot sauce as a key ingredient of every item on the menu.
Everyone who knew me even casually, though, knew they never would find me working in a hospital, clinic or any other kind of medical facility. Doctors and nurses work around needles and blood. I've spent most of my life avoiding such people, places and things.
When I was in seventh grade, nurses came to my school to vaccinate us against German measles. As I saw the needle coming at my shoulder, the world got fuzzy and I hit the ground. Every year for the next six years, someone at my school would try to send a note to my parents reminding them I still needed my rubella vaccination. The note mysteriously disappeared before ever landing in my mom's hands. Just mention that I needed a blood test or had to receive some kind of medicine intravenously, and I was out cold.
One sign that God likes to enjoy a little laugh: When I got married, my father-in-law was a lab technician at a hospital and my mother-in-law worked as a nurse on blood drives for the Red Cross.
Gallows humor in my family often involved my in-laws trying to talk me into donating blood. My wife and kids joined in every time a drive was advertised. They knew I couldn't watch doctors operating with fake blood and guts on TV shows. I didn't even know my own blood type much less want to give some of it to someone else.
One Sunday, all that changed.
We were at noon Mass at St. Cletus. I had seen the signs entering church that the Red Cross had a blood drive going in the parish center after all Masses until 1:30 that afternoon. A few minutes after sitting in the pew, I heard the Holy Spirit whisper to me, "Give blood today, Mike. You will be OK. Everything will be fine. Today is the day I want you to do this." The more I thought about it, the more I could feel the Spirit urging me and the greater the peace that filled my mind.
When Mass ended, one of my kids chided, "Hey, Dad, are you going to give blood?"
"Actually," I said, "I'm going to."
Everyone groaned. "Yeah, right. Like you could give blood. Like you'd even think about it."
"No, really, I'm going down there. I know we have to leave quickly, though, so they'll have to take me right away or I won't be able to."
"See, we knew you'd get out of it somehow."
Their lack of faith made me more determined. I felt like I was on a mission. I went downstairs to the parish center and saw a line of people waiting to donate. I asked how long it would take, then implored folks to let me move to the front of the line — and they did. Before I knew it, I was lying on a cot with blood flowing from my left arm into a vial. I didn't feel the least bit dizzy, not even a tingle. I had my juice and cookies and soon was on my way out.
It was a particularly hot summer day. We decided to spend part of the afternoon cooling off by walking around the local mall. While there, my daughter and I bumped into a married couple, Tom and Nancy, who attended the same church.
"I see you gave blood today," said Nancy, noting the bandage still on my arm.
"Yeah," I said. "First time I ever gave. I never could even think about it before, but something today told me to do it. And I didn't have any problems at all."
The look on Nancy's face …
"Oh, my gosh," she said. "When I was at Mass this morning, I knew we were having a blood drive. I always give, but I've had a bad experience each of the last three times. Today, I just knew I couldn't do it again, so I prayed for God to find someone to take my place, someone who never had given before."
A warm feeling rippled through my body, as I realized I actually was the living answer to someone's prayer.
Later that day, I felt curious about something: I wondered what Nancy's blood type is. Mine was A-positive. The next time I saw Nancy, I asked what hers was.
"A-positive," she replied. "Why?"
Oh, my goodness.
"You aren't going to believe this," I said. "I really am your blood brother in Christ."