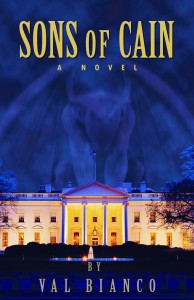 Looking at the cover of Sons of Cain, by Val Bianco, will send a shiver through your spine. It's a true Catholic thriller and a fascinating story of grand proportions. "Sons of Cain" grabs your very mind, heart, and soul, and refuses to let go.
The prologue provides a stunning beginning to the story because it is based in truth, on the frightening visions that occurred to Pope Leo XIII, in the year 1884. After reading this novel, trust me, you will have a deep devotion to Saint Michael the Archangel.
Sons of Cain is a cleverly written, well-plotted story that deals with the battle between Good and Evil, not abstract concepts but as a physical and spiritual battle. Nick Rieper, an ex Navy Seal with a tumultuous past, has formed a band of warriors known as the Knights of Longinus. These warriors dedicate themselves to fighting Satan and Satanism. Father Picora, who has risen above his own broken past, is Rieper's confessor and friend. Together, these valiant men must stop the Cainites from destroying America, even if it costs them their lives.
Interestingly, while Sons of Cain is geared toward male readers, I can attest to the fact that women will enjoy it, too. One of the main characters, Robyn Alexander, is a beautiful, smart young woman who faces mighty challenges. After circumstances bring her together with Father Picora, Reiper (whom she is attracted to), and the Knights of Longinus, Robyn finds her life forever altered.
The author includes in-depth background, insights, and the motivation behind her characters actions and the characters we meet in this story are believable and intriguing. The "good" characters are easy to empathize with because they are not sugar coated, goody-goodies. And the bad characters? The bad characters are terrifying! I must caution readers: Do not read this book when you are alone at night! Also, this is not a book for young readers or the faint of heart. Be aware that there is some foul language, due to the nature of the subject matter.
At the same time, Sons of Cain offers readers a wealth of good Catholic teaching without bogging the plot down with dry preaching. I loved that the scriptural references were taken from the Douay-Rheims Bible, something you rarely see in fiction these days.
Sons of Cain is relevant to the times we now live in, and it addresses the issues of abortion, euthanasia, same-sex marriage, government corruption, and other current day evils we see all around us. The strong sense of reality in this book makes it all the more frightening, especially when one realizes that so much in the story is actually based in truth.
Once you have finished reading Sons of Cain, check out the "What's Real?" page on the author's website: http://www.valbianco.com/whats-real-2
Still need more? Keep your eyes open for the sequel!