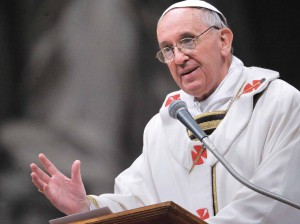 Pope Francis reflected on his first Apostolic Visit to Africa during his Wednesday Address on Dec.2.  He travelled to Kenya, Uganda and the Central African Republic with a message of hope in the Risen Jesus, calling Catholics to the mission field, "Please don't exclude this possibility of becoming a missionary, to bring love, humanity and faith to other countries."
In his catechesis, the pope summarized highlights of his trip to Africa to demonstrate solidarity with the poor and emerging populations. He emphasized social justice and the environment, reconciliation and peace-building, and the evangelizing efforts of the Church.
Pope Francis explained that Kenya represents a global challenge to protect Creation by reforming a model of development that is fair, inclusive and sustainable. In Nairobi, the coexistence of wealth and misery is a scandal. So, Pope Francis met with authorities and diplomats, as well as the poor. He met with leaders of  Christian denominations, other religions, priests and consecrated persons, and young people who he encouraged to treasure the natural and spiritual richness of their country.  Most importantly, the pope had the joy of bringing Jesus' word of hope: "Be strong in the faith, be not afraid." This was the motto of the visit. A word that is lived every day by so many humble and simple persons, with noble dignity; a word witnessed tragically and heroically by the young people of the University of Garissa, killed last April 2nd because they were Christians. Their blood is the seed of peace and fraternity for Kenya, for Africa and for the whole world.
In Uganda, since the pope's visit was 50 years after the historic canonization of martyrs by Blessed Paul VI, his motto was: "You will be my witnesses" (Acts 1:8). A motto which stands on the preceding verse, "You will have the strength of the Holy Spirit," because it is the Spirit which animates the heart and hands of missionary disciples. Pope Francis's whole visit in Uganda "unfolded in the fervor of the witness animated by the Holy Spirit." Witness such as the service of catechists.  The witness of charity by communities who serve the poor, disabled and sick. The witness of young people "who guard the gift of hope and seek to live according to the Gospel". Witnesses like consecrated men and women who renew day after day their total "yes" to Christ and dedicate themselves joyfully to the service of the Holy People of God. Witnesses, animated by the Holy Spirit Himself, are leaven for the whole society.
The third stage of the pope's trip was to Central African Republic, "in the geographic heart of the Continent, the heart of Africa." This visit was the Pope's first intention, because that country is trying to come out of a difficult period of conflicts and suffering. A week ahead of time, Pope Francis chose to open the first Holy Door of the Jubilee of Mercy, as a sign of faith and hope for those people, and, symbolically, for all the African populations, most in need of liberation and comfort. Jesus' invitation to the disciples: "Let us go across to the other side" (Luke 8:22) was the motto for Central Africa. "To go to the other side" means, in the civil sense, to leave behind war, divisions, and misery and to choose peace, reconciliation and development
Since Pope Francis believes the contribution of the religious communities is crucial, he met with the Evangelical and Muslim Communities,  priests and consecrated persons, but also with young people. He shared "the joy of feeling that the Risen Lord is with us 'in the boat' and it is He who guides it to the other side." In the last Mass at the Bangui Stadium,  Pope Francis led the faithful  to renew a "commitment to follow Jesus, our hope, our peace, and Face of Divine Mercy." That last Mass was wonderful because it was a stadium full of young people since more than half of the population of the Central African Republic are minors, less than 18 years old, " a promise to go forward!"
Pope Francis praised missionaries, men and women who left everything as youths and  faced overwhelming work. He told a story about meeting an elderly, Italian Sister at Bangui who had been in the Congo since she was 23-years-old. This courageous, 81-year-old nun travelled by canoe with a little girl to see him. So Pope Francis asked.
"And what do you do, Sister?" "I am a nurse, but then I studied a bit here and became an obstetrician and I made 3,280 children be born," she said to me. A whole life for life, for the life of others. And there are so many, so many like this sister: so many sisters, so many priests, so many religious who consume their life to proclaim Jesus Christ. It's beautiful to see this; it's beautiful.
The pope then addressed youth with a powerful plea to consider missionary work:
Missionary work is not to engage in proselytism: this sister said to me that Muslim women go to them because they know that the sisters are good nurses and that they look after one well, and they do not engage in catechesis to convert them! They give witness then, they catechize anyone who so wishes. But witness: this is the great heroic missionary work of the Church. To proclaim Jesus Christ with one's life!  I turn to young people: think of what you want to do with your life. It is the moment to think and to ask the Lord to make you hear His will. However, please don't exclude this possibility of becoming a missionary, to bring love, humanity and faith to other countries. Do not engage in proselytism: no.
The reason we refrain from proselytizing is we must respect African cultural identity, especially when their faith shows signs of thriving, being robust and vigorous. In other words, when we respect those we serve, evangelization is a two-way street.
Pope Francis closed with a prayer of praise and call for us to be witnesses,
Let us praise the Lord together for this pilgrimage in the land of Africa and let us allow ourselves to be guided by his key-words: "Be strong in the faith, be not afraid"; "You will be my witnesses"; Let us go across to the other side."