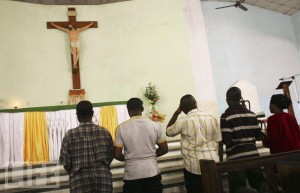 Renegade politicians whipping up religious hatred are to blame for bloodshed and violence in northern Nigeria according to the local bishop who says the police have failed in their duty to protect the people.
Bishop Oliver Dashe Doeme of Maiduguri said local politicians were exploiting the region's religious divisions to "whip up" anger in a bid to destabilize the region and unseat the government.
Speaking on Monday, November 7th, from the region in north-east Nigeria, Bishop Doeme told Catholic charity Aid to the Church in Need (ACN) that the region's government had "let the people down" by allowing a serious breach of security.
Latest reports say that more than 100 people died in the attacks over the weekend, centering on the towns of Damaturu and Patiskum, where bombers targeted mosques, churches and staged gun battles with local police.
Bishop Doeme explained how in Damaturu parish priest Father James John and Father Allan, assistant priest, ran for their lives after St. Mary's Catholic Church was reduced to rubble during a bomb attack on Friday evening, November 4th.
The bishop said: "The church was completely burnt to ashes. We think explosives were used to attack it."
"It was one of the biggest churches in the diocese, capable of holding thousands of people. Yesterday, [Sunday] they said Mass in a parish hall."
Bishop Doeme told ACN, "Some politicians, I am unable to say which ones, in this region are responsible for what has happened. They are using Islamist groups for their own interests."
His comments come after Islamist group Boko Haram, which means Western education is forbidden, admitted that it was behind the attacks in Damaturu, adding that it planned further violence.
Bishop Doeme said, "Powerful politicians are using Islamists, enabling them to buy arms locally and make them. Religion is a very sensitive issue and the politicians can whip up hatred and suspicion very easily."
"Part of the objective is to push the Christians away and to enforce Shari'a [Islamic] law properly. Forcible conversion to Islam is what they seek."
Hitting out against the region's security services, he said, "The Church's response is to cry out and ask the Government to shore up security. It requires a concerted effort to restore law and order."
"If security had come earlier, this wouldn't have happened. The police have the people down."
Bishop Doeme said Islamist groups had infiltrated parts of the police and other security networks, causing further problems.
"The people behind this should be found and arrested. Some of them are in the security itself."
He added that youth in the region were easily prey for Islamist groups, describing high levels of poverty, poor education and unemployment.
The bishop said the violence was the latest in a series of attacks.
He reported that St. Mary's Church was the fifth Catholic building in the diocese to come under attack since March.
A church in Maiduguri Cathedral Parish came under attack in April and three months later the diocesan curial offices and the neighboring presbytery (priests' house) were targeted.
Three weeks ago another church was burned down by youth.
Bishop Doeme said, "We should be given freedom to worship. The Government should ensure this."
"We know very well the threats against us, but God will protect us."