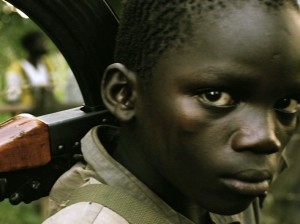 The Washington Times reported the Obama administration waived sanctions that would prevent countries from receiving foreign aid for violating the Child-Soldier Prevention Act. Obama, who co-sponsored the legislation in 2008 as an Illinois senator, has now permitted aid to countries that have used children as young as 11 to fight under a "national interest" exclusion within the legislation.
The 2012 State Departments "Trafficking in Persons" report found seven countries were in violation as having "recruited and used children younger than 15 as soldiers in their armed forces or government-supported militias."
This October President Obama will decide again whether he will issue waivers to countries using child-soldiers.
Congressman Jeff Fortenberry (R-NE1), who authored the House version of the Child-Soldier bill, opposed the presidents waivers last October saying it was "an assault on human dignity."
Fortenberry has introduced new legislation that will "require the president to report to Congress 15 days before issuing another waiver what credible and verifiable steps are being undertaken in countries cited for child-soldiers violations to implement a plan of action to end the recruitment of child soldiers."
The seven countries cited for using child soldiers are Congo, Libya, Myanmar, Somalia, Sudan, South Sudan and Yemen. Congo, Sudan and Yemen have been in violation since 2010.
Human Rights Watch estimates that countries in violation of the Child-Prevention law will receive $200 million in military assistance from the U.S. The current law only prohibits funding of military aid, but Rep. Fortenberry's bill would prevent countries in violation from also receiving peacekeeping aid.
Amnesty International estimates 250,000 children are "fighting in active conflicts" worldwide.
Last December President Obama signed an executive order instituting a National Action Plan on Women, Peace, and Security with a goal to "prevent – and protect women and children from – harm, exploitation, discrimination, and abuse, including sexual and gender-based violence and trafficking in persons, and to hold perpetrators accountable in conflict-affected environments."
Withholding foreign aid is an integral part of bringing about this change.