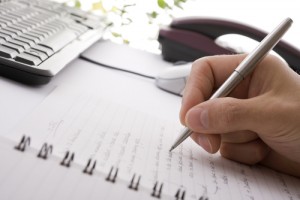 Checklists have been with us for many years, especially in critical industries where a mistake could make the difference between life and death.
We've all seen footage of pilots in the cockpit doing a careful checklist before takeoff. And we know the ground crew does similar check  listing before each takeoff. I suspect commercial aircraft checklists have significantly improved, as airlines are much safer than 20 years ago. And we're all grateful.
Also recent studies in hospitals have shown the power of checklists to reduce patient deaths in specific treatments by significant percentages.
But how many of us use checklists in our businesses to ensure the longevity of our livelihoods? I suspect many of us are too busy running-on-the-fly to develop comprehensive checklists for the many tasks we do.
I deal with many different kinds of media: articles, e-mail blasts, newsletters, web pages, press releases, etc. I pride myself on being particular and organized, but I found myself making simple mistakes in some of my work.
I see others also making mistakes. Some are serious. Just the other day I was reading an insert in a trade magazine that said "A Word from Our Sponsor." It was an informative piece, so I looked for the company's web address. It wasn't there. Then I looked for other contact information … a phone number or email address. Nothing.
By necessity, I began developing comprehensive checklists for each category of work I do. I even have one just for my Business Journal columns. Today, my checklists ensure I won't forget an important element of a campaign.
By the way, checklists are even more important when it comes to developing your website. When it comes to web pages there are always more layers of complexity added as the years go by. For example, years ago we didn't worry about adding social media tools to a web page. They just didn't exist!
Below is the checklist I've developed for a web page.
Keywords for page researched
Keywords embedded in text
Compelling Headline
Helpful Sub-Heads
Text is Urgent (if there is a deadline)
Text is Unique
Text is Ultra Specific
Text is Useful
Text is "you" oriented (not "we" oriented)
Glaze Patrol
Product features are included
Product benefits are included
Testimonials included
Gift, free trial, or other premium included
Guarantee / return policy stated
Call to action included: link, email, phone
Mailing list / newsletter sign-up available
Title tag written, capitalized, loaded
Description tag written and loaded
Keyword tag written and loaded (optional)
Alt tags written and loaded
Run spell and grammar check tool
Bullet endings uniform
Bold important text
Internal linking with anchor text included
End links included
All links working
Physical address included
Cities served included
Verification seals included
Print out and proofread out loud
Association logos included
Share tool installed
Social media tools installed (FB, Twitter, LinkedIn)
Tracking code installed (Google analytics)
All designated navigation appearing on page
Save HTML code of major text (backup)
All of the above items will not be applicable to every web page or client, but they should all be considered when planning a web page.
On a cautionary note, once a checklist for a task is established it's easy to overlook: When was the last time you paid attention to the checklist on the back of a payment envelope? Your checklists will only be as good as how diligently you use them.
One final note, checklists help out in your personal life, too. Here's the one by my door:
Keys
Purse
Phone
Water
Kleenex
Smile