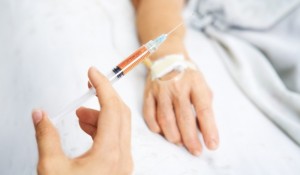 With a court battle over Canada's laws against euthanasia and assisted suicide proceeding just north of the border, a lawyer in Washington State has proposed that his state expand their Death with Dignity Act.
Currently Washington's law allows doctors to prescribe lethal medication upon request to a competent, terminally ill patient, but Olympia attorney Brian Faller wants it to include people who are not terminally ill, and those not mentally or physically able to request life-ending medication.
Faller stated in an article in The Olympian that he believes the Death with Dignity Act is "is living up to its title" because 51 people killed themselves by ingesting lethal medication in 2010, according to Washington Department of Health records.
"This raises the question," Faller wrote, "whether, if the act continues to work as intended, we should extend the choice of voluntary euthanasia to persons who are not terminally ill but suffering a severely debilitating medical condition they judge to be unbearable, and to persons who are not competent at the time of their death but who previously made a competent choice of euthanasia as evidenced through a special type of advance directive."
The 2010 Washington Death with Dignity Act Report states that assisted suicide drugs were dispensed to 87 patients in 2010, 51 of whom reportedly died after ingesting the drugs. Fifteen died without having ingested the medication, 6 died without anyone knowing whether they had taken the lethal drugs, and the status of the remaining 15 people was unknown.
The vast majority of patients requesting a doctor-aided death were white, well-educated, insured, dying of cancer, and receiving hospice care, with the reason for requesting euthanasia most commonly given being loss of autonomy (90%), inability to engage in activities that made life enjoyable (87%), and loss of dignity (64%).
Pain was not mentioned as an end-of-life concern by any of the participants who died using doctor-prescribed lethal medication.
Brian Faller posits, however, that, "Those opposed to euthanasia are free to choose to endure great suffering at their life's end. But why should they be entitled to force others to do so?"
He also dismisses the possibility that voluntary euthanasia will lead to involuntary euthanasia – as has happened elsewhere where euthanasia has been legalized – as a valid argument against legalization.
"The chance that some abuse of voluntary euthanasia might occur despite the safeguards," does not "outweigh both the liberty to make up ones own mind whether to continue a life of suffering and the suffering that would have been avoided if that liberty were not denied," he said.
A study published in the Canadian Medical Association Journal in May 2010 found that 32% of all euthanasia deaths in the Flanders region were without request or consent. At the time, Alex Schadenberg, director of the Euthanasia Prevention Coalition, had warned that the study "indicates that even when legalized and regulated … abuse and under-reporting in common."
The Netherlands, which officially legalized euthanasia in 2002 for those requesting it due to terminal illness, recently expanded the criteria for euthanasia to include "loneliness" and "fatigue."
The Royal Dutch Medical Association (KNMG) released new guidelines in June that expanded conditions under which euthanasia might be justified to include "mental and psychosocial ailments" such as "loss of function, loneliness and loss of autonomy."